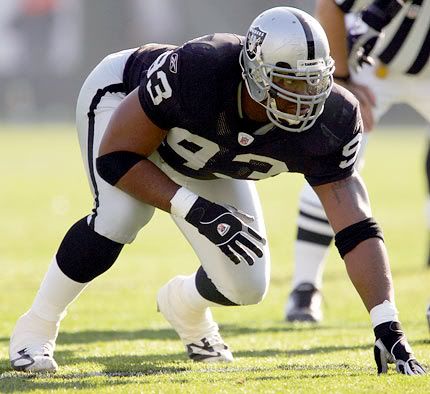 Jason Cole of Yahoo! Sports has been ranking all the different positions throughout the NFL this summer and today he did defensive lines. According to Cole, the Minnesota Vikings have the league's best defensive front, while the Raiders came in near the back of the pack at 24.
Here is what Cole had to say about the Raiders:
24. Oakland Raiders:In two years since signing a then-record, seven-year, $50.5 million contract, tackle Tommy Kelly has produced all of 5½ sacks, including only one last season. Yeah, one, in a full 16-game season. Kelly returns and the Raiders are going to experiment with Richard Seymour at left end, hoping he can channel a little Reggie White. Don't expect that to last. By the middle of training camp, look for Seymour to seek a return to the inside, where he can take advantage of mismatches against shorter guards and not have to deal with big-bodied offensive tackles. After Kelly and Seymour, the dropoff for the Raiders is steep, featuring flotsam like Desmond Bryant, Matt Shaughnessy and Quentin Groves.
I understand why the Raiders rank low based on last season when they allowed over 155 yards per game on the ground. However, with the additions of Groves, John Henderson and Lamarr Houston, I expect the defensive line to be the most improved unit on the Raiders this season.