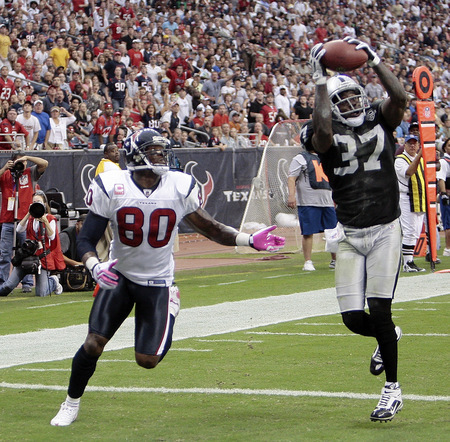 As we head into the holiday weekend, here are my random Raider thoughts for Friday. I want to wish everyone a happy 4th of July and thank you all for making Just Blog Baby one of your stops for Raiders info. Enjoy the Ramblings.
— I really think people in the mainstream media are underestimating the Raiders heading into the 2010 season.
I understand there hasn't been a lot to like about the Raiders in recent years. However, if you look a little deeper into this season's squad, it has a chance to be a pretty good football team.
First, let me say that I don't think Oakland can have a good year just because I follow the Raiders. The last couple of seasons with JaMarcus Russell at quarterback I had no hope at all. As a matter of fact if Russell was still the Raiders QB, I wouldn't be writing this post.
We all know "analysts" and "experts" in the media pretty much base their predictions on the previous year. They don't really break down each team individually and come up with a strong conclusion.
If they bothered to do so, they would see a Raiders team that is much better heading into 2010 than it was in 2009.
Say what you want about Jason Campbell but he is a huge upgrade over Russell. I don't think anyone would argue that point.
Look at how hard and competitive the Raiders played with journeyman Bruce Gradkowski under center late in the season. If Campbell comes in and plays reasonably well, doesn't logic suggest Oakland will field a much more explosive offense in 2010?
The area I really like, and where I think people are selling Oakland short, is on defense. This unit was on the field way too much last year because of an ineffective offense and they simply wore down as the season went on.
The Raiders already have a strong secondary with Nnamdi Asomugha, Chris Johnson and Tyvon Branch. At linebacker rookie Rolando McClain looks like he could be a superstar from Day 1.
Oakland racked up 37 sacks last year and they've added Quentin Groves, John Henderson, Kamerion Wimbley and Lamarr Houston to their front seven. Not to mention Richard Seymour is in his second season with the team and playing for a long-term contract.
I'm not saying the Raiders are going to win the Super Bowl this year but I do see a much-improved team that has a shot to battle for a playoff spot. Am I crazy?
— Is it possible I am in the vast minority that thinks Chris Johnson is one of the better corners in the NFL? I admit Johnson is one of my favorite current Raiders, so maybe I am being biased.
I think with all the love Asomugha gets (And he deserves it), people don't give Johnson his just due. Heck, even Madden 2011 only gave Johnson a rating of 76, compared to Asomugha's 98.
Maybe I'm blind but in my opinion Johnson is one heck of a corner. As a matter of fact, I would put the duo of Asomugha and Johnson up against pretty much any corner tandem in the NFL.
— I was watching some Redskins games over from last year to get a better look at Campbell and I came to one conclusion: Zach Miller could be headed to the Pro Bowl this year.
Some quarterbacks like throwing to their tight end more than others and Campbell is one of those guys. When things aren't open down the field the first place Campbell likes to look is at his tight end.
Both Chris Cooley and Fred Davis had productive seasons with Campbell under center. Now, it's Miller time.
Miller caught 66 passes for 805 yards and three scores in 2009. Think about how impressive that is considering who he had throwing him the football.
I don't think 80 receptions, 1,000 yards and 8 touchdowns are out of the question for Miller this season.
— Finally, I love the fact the Raiders are going to be more aggressive on defense this year under John Marshall.
It makes sense, especially considering what I said above about Oakland having good corners. I'm excited to see how much better this defense can be now that they are going to blitz more and change up schemes.
I believe the influx of talent on defense and the new aggressive approach is going to surprise a lot of people this season.
Tags: Chris Johnson Jason Campbell Nnamdi Asomugha Oakland Raiders Tyvon Branch Zach Miller