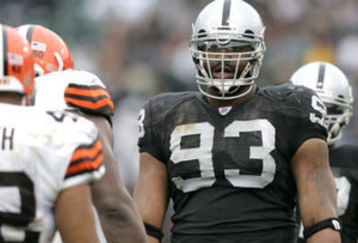 Here at Fansided, the writers of each blog voted to come up with an All-Conference team. However, the writers of the AFC West couldn't agree on three positions. We are now turning it over to you, the fans, to break the tie.
Here are the positions where we couldn't agree on a winner:
Kicker: Sebastian Janokowski (Raiders), Nate Kaeding (Chargers)
Nose Tackle: Tommy Kelly (Raiders), Cam Thomas (Chargers)
Right Guard: Ryan Lilja (Chiefs), Chris Kuper (Broncos)
As you can see there are two Raiders, Tommy Kelly and Sebastian Janokowski, that are still in the running. I was able to get them on the ballot, so now it's time for Raider Nation to vote them onto the All-AFC West team.
To vote, simply click on the link below and go to the Fansided San Diego Chargers blog:
Of the three positions that were previously un-agreed upon, you guys will get one day to vote for each of them.
The first poll will be up Tuesday morning. You will have 24 hours to vote from 10AM Pacific Standard Time until the next polls are put up on Wednesday and Thursday mornings respectively.
Here is my two cents on the whole thing. It's really close between Kelly and Thomas at NT. I just think Kelly is a tad more versatile.
I don't think there is any question at kicker. Kaeding has missed more big kicks than maybe any other kicker in my lifetime. The guy is one of the biggest chokers in the NFL. If Janokowski was on the Chargers over the past few years, they might have played in a Super Bowl by now.
So go over to Bolt Beat and help us fill out our All-AFC West team starting Tuesday morning!