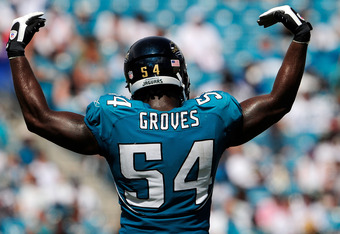 With training camp right around the corner (Thank God!), it's time to take a look at the players to keep an eye on this summer and during the preseason.
There are a lot of interesting new additions to the Oakland roster that bear watching but here are the three players I am most intrigued by heading into training camp:
Walter McFadden, CB -I wrote in a previous blog how excited I was when the Raiders selected McFadden. I saw him play a lot during his career at Auburn and in my opinion, McFadden was one of the sleepers in this year's draft class.
McFadden has speed and quickness and but the thing I like most about him is his instincts. McFadden has that uncanny knack for making big plays.
There is something to be said about a player who always seems to be around the football. Whether it's against the pass or defending the run, McFadden simply makes plays.
Now look at how many turnovers the Raiders caused last season and you'll see why there is a need for another ballhawking playmaker in the Oakland secondary.
It's no secret that in today's NFL a team needs three quality corners to take on the Colts and Saints of the world. Some people think McFadden may push Chris Johnson for a starting spot. While I won't go quite that far, I expect McFadden to come right in and contribute as a nickel corner.
Look for McFadden to be a big addition to the Raiders secondary as a rookie.
Quentin Groves, DE/OLB -Apparently I watch a lot of Auburn games because I loved Groves when he was in college. His initial burst off the edge is something you can't teach and regardless of what Groves did in Jacksonville, I still believe he can be an asset to the Raiders as a pass rusher.
Groves only started seven games and recorded 2.5 sacks in two seasons for the Jaguars but I believe he has a chance to flourish with a change of scenery.
From the people I've talked with down in Jacksonville, they told me Groves fell out of favor early with the Jaguars coaching staff and he wasn't always used right in their defense.
Groves is a pass rusher and that's really all he should be doing. The Jags had him dropping into coverage and trying to do things that aren't his strength.
It all depends on how John Marshall uses Groves. I think if he turns him loose on opposing quarterbacks, Groves may be the surprise of the Raiders defense this season. I will be watching closely this preseason to see how Groves is being used in Oakland's new attacking 3-4 schemes.
I refuse to give up on Groves after just two seasons. I know he can rush the passer and coming to Oakland may be just what Groves needs to jump-start his career.
Louis Murphy, WR -I am really excited to see what Murphy can do in his second season with the Raiders. Murphy was a money player in college and he showed some of that big-play ability as a rookie.
Think about what Murphy accomplished in his first season as a Raider. Despite often atrocious quarterback play, Murphy caught 34 passes for 521 yards and four touchdowns.
That's a solid rookie outing when JaMarcus Russell isn't throwing you the football. Imagine what Murphy can accomplish now that he has a season under his belt and a legitimate NFL quarterback delivering him the ball.
I believe Murphy's production could double in 2010. I don't think 70 receptions, 1,000 yards and eight scores are out of the question, as long as Jason Campbell stays healthy and plays well.
I like Chaz Schilens and I haven't given up on Darrius Heyward-Bey yet. However, in my opinion, Murphy possesses a special quality that will soon make him the Raiders No. 1 receiver.
Murphy may not be listed as a starter right now but I expect that to change if he has a strong training camp and preseason.
Tags: Louis Murphy Oakland Raiders Quentin Groves Walter McFadden