Oakland Raiders, Crabtree deal ranked amongst worst in NFL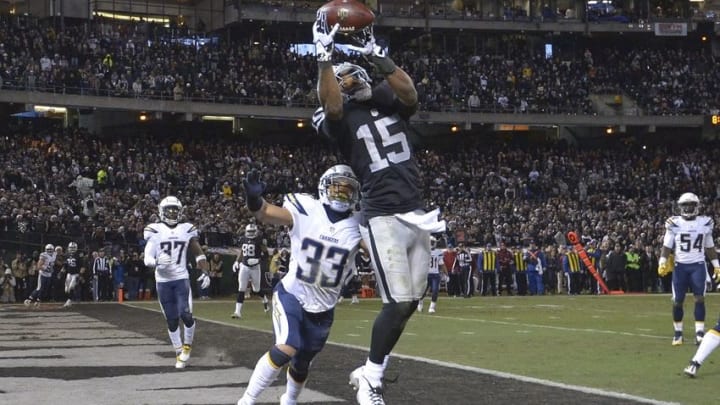 Dec 24, 2015; Oakland, CA, USA; Oakland Raiders wide receiver Michael Crabtree (15) is defended by San Diego Chargers defensive back Greg Ducre (33) during an NFL football game at O.co Coliseum. The Raiders defeated the Chargers 23-20 in overtime. Mandatory Credit: Kirby Lee-USA TODAY Sports /
Oakland Raiders wideout Michael Crabtree's contract was ranked as the fourth worst amongst receivers by Pro Football Focus.
Oakland Raiders general manager Reggie McKenzie has received plenty of praise from analytics website Pro Football Focus in recent years for a long list of shrewd moves, but PFF recently decided to criticise one of McKenzie's recent contracts as one of the worst in the NFL.
PFF ripped Michael Crabtree's contract extension with the Raiders and McKenzie's decision to give the veteran a four-year deal with a cap hit of $8.5 million. Taking back their earlier praise of Crabtree as a value one year signing back in 2015 now that the Raiders are paying Crabtree top receiver money.
Crabtree was ranked fourth on PFF's list of the five worst wideout contracts, the website citing that the veteran will have to play at his career peak statistically to live up to his new cap hit after being awarded for a productive season on a one-year deal for the Raiders.
From PFF:
"4. Michael Crabtree, Oakland RaidersYears remaining on current deal: FourAverage remaining cap hit: $8.5 millionYear he can realistically be cut: 2017A fantastic value free-agent signing a year ago, Crabtree settled in nicely as Oakland's No. 2 wide receiver by catching 85 of 143 Derek Carr targets for almost 1,000 yards and nine touchdowns, earning the 39th-best grade among NFL wide receivers last season (78.8). He didn't rack up his first negatively-graded game until Week 11, and his 17 missed tackles forced were eighth-best among WRs last year.Empowered by an offseason in which they had enough money to sign Kelechi Osemele, Sean Smith, Bruce Irvin, and Reggie Nelson, the Raiders handed out a four-year, $34 million-deal to Crabtree, which includes a cap hit of $11 million this season (up from his $3.2 million last year). $11 million is a big number for most wide receivers, but especially one that failed to grade positively in six of the last seven games last year, wherein he dropped five passes and fumbled once. The silver lining in this contract is that the deal contains no dead money after 2016—the mark of a player signing with a team which has a surplus of cash on hand. If Crabtree struggles, he can be released relatively easily in subsequent offseasons. The problem is that if he stays in Oakland, he'll have to play consistently at or around what has been his career peak to justify the numbers in his contract moving forward, a scenario that seems unlikely given his age (28) and injury history."
Crabtree should be a productive wideout for the Raiders in 2016 and beyond, but PFF are valid in their analysis that the veteran is far less valuable now that he is being paid top money. Time will tell if Crabtree can produce at a level where the critics are silenced, but with the Raiders having little options to upgrade the receiver position this deal was one that had to be made. If it means Oakland returns to the playoffs or the first time since 2002 it will all be worth it for McKenzie and the Raiders to pay Crabtree top money.