Oakland Raiders: Late June musings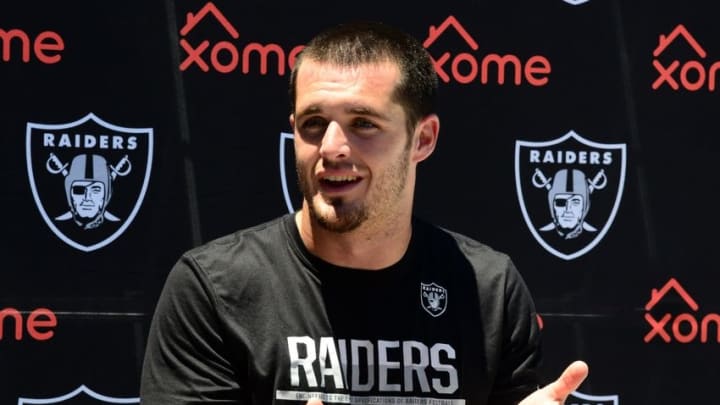 Jun 15, 2016; Alameda, CA, USA; Oakland Raiders quarterback Derek Carr at minicamp press conference at the Raiders practice facility. Mandatory Credit: Kirby Lee-USA TODAY Sports /
Musings on the latest Oakland Raiders and NFL news as the end of June nears on the calendar.
Late June. The one month of the football season where, despite the NFL's best efforts to trick you into thinking otherwise, there really is NOTHING happening. Nothing.
Sure there were OTAs and meetings and practices in the early part of the month. But late June? Nothing. Nada. Zip. Zilch. That is, except the same article written twenty different ways by ten different writers.
Because the non-existence of real news is taboo in today's 24-hour news cycle, news must be created, whether that means the classic article in response to an article – "Pro Football Focus Ranked Derek Carr 1st overall in most devout quarterbacks!! What does this mean for the Raiders?" just inventing news for the fun of it, or speculating on something that's been speculated on 100000000000000 times, it's time to create some news. Or, just share your opinion on things going on. That's what I've chosen to do.
Following are my musings on the latest NFL and Raiders news items:
Some important things are happening in football right now. Buddy Ryan, an NFL legend and father of two of the most overrated and blustery coaches of all time, twins Rex and Rob, passed away this week. Ryan always seemed like a man who would scare death away if ever it came for him, but the NFL mourns the loss of an innovator and brilliant football man who will be forever linked to the '85 Bears defense and for punching Kevin Gilbride on the sidelines. Awesome.
Even the Raiders are in the mix of important discussions, as the Las Vegas Review-Journal, the personal voice of Sands Casino owner and potential Raider partner Sheldon Adelson, recently published an article discussing the top four sites in Vegas for a Raiders revival.
It's hard to say what a collective Nation reaction will be to a move, but I think most Raider fans are resigned to it at this point. This franchise has one of the most loyal fanbases in all of sports when you consider that on any given Sunday for the better part of the past three decades this team has either been a bad football team, and/or had stadium and relocation issues hovering over its head. Yet the Nation stays strong, travels and represents well, and keeps the faith. It's a beautiful thing – and with Carr, Mack, the hype and the excitement surrounding the team, expect the Nation to grow exponentially in the next few years.
The Raiders just concluded their Rookie Transition Program, and former law firm member Kirk Morrison was back explaining to the rookies that although you may want to validate your arrival with some bling or a nice ride, it ultimately matters most what you and your teammates think of you as a player and person. He gave them a lesson in maturity directly from someone who lived it, paid for it – literally and figuratively – and learned from his mistakes the hard way.
Morrison`s speech echoed the sentiments of the new Raider mentality – work hard, don`t be flashy, and at the end of the day can you be proud of yourself? That's what really matters to a person who takes pride in their work, and to their peers and colleagues.
The Raiders have now signed all their 2016 draft class, meaning that everyone will be present for training camp in July with no holdouts. That's of paramount importance for a young team with a relatively new coaching staff and some new pieces that need to gel quickly.
In the first trailer I saw for Any Given Wednesday, Simmons delivery was as natural as that of a man forced to read a passage against his will as smiling psychopaths hold his family hostage just off camera. I didn't see the show, but the reviews I read and the brief clip I did watch was affirmation: Simmons is a great writer who has the television presence and charisma of a toothless woman eating rice pudding – with her hands.
Shocking that Rob Gronkowski – who plays for the Patriots, by the way – is in full agreement with Affleck's take. Well, that settles it. When Gronk – who's clearly unbiased and has proven his high level of intelligence on multiple occasions – opines on something and says I couldn't have said it better myself, it's mic drop. Game over. Case closed.
Having said that, enough already. Seriously. Moving on.
The Raiders will have what looks to be full participation in training camp, with Karl Joseph on track to return, Austin Howard having come back late in OTAs, and all rookies signed and under contract. Great news and great for a coaching staff that has a ton of new players to integrate into the system to build quality depth before the season begins.