Oakland Raiders training camp fights break out on Saturday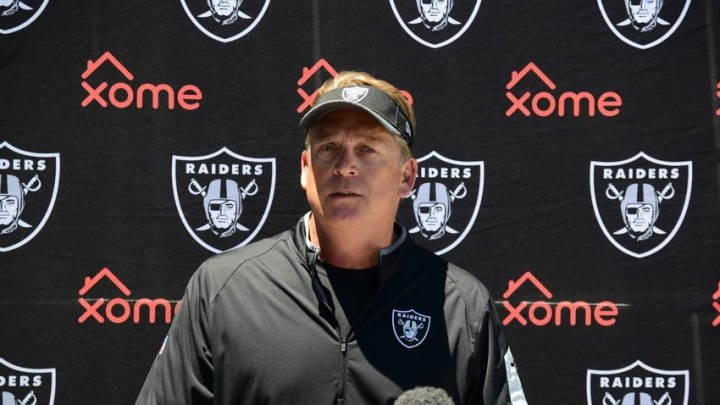 May 31, 2016; Alameda, CA, USA; Oakland Raiders coach Jack Del Rio reacts at press conference at organized team activities at the Raiders practice facility. Mandatory Credit: Kirby Lee-USA TODAY Sports /
Kelechi Osemele was at the center of two fights on Saturday during the Oakland Raiders padded training camp session.
The Oakland Raiders put on the pads on Saturday, and with a full contact practice there was plenty of chippy play in Napa. Tempers flaring for those on hand to watch the Raiders put in work as the prepare for their preseason opener on Friday.
A handful of after the whistle fights broke out involving Kelechi Osemele. Who first exchanged blows with Mario Edwards before getting into another scuffle before returning to the locker room with Donald Penn and then sitting the rest of the practice out. The Raiders big money addition on the offensive line taking no prisoners despite having a starting job locked up already.
Head coach Jack Del Rio sat Osemele out for the rest of the practice after he returned from the locker room. Taking a strong stance on fighting during training camp when the Raiders are trying to build a team before the start of the regular season. Sitting out one of his top players and Mario Edwards to prove a point that fighting is not tolerated on the Raiders practice field.
Tempers will always flare on the practice field when there is full contact, but the Raiders can't afford to lose Osemele or Edwards to injury over a training camp fight. Del Rio made the right move to sit them down for the rest of Saturday's practice. Hopefully after a coaching moment from Del Rio, Osemele's temper will cool down during practice as the Raiders need Osemele to take his frustrations out on opponents rather than teammates from this point forward.