Week 6 Mailbag: Oakland Raiders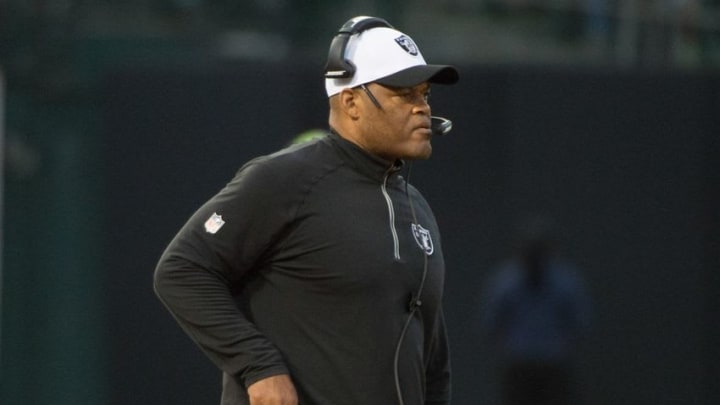 August 30, 2015; Oakland, CA, USA; Oakland Raiders defensive coordinator Ken Norton Jr. during the third quarter in a preseason NFL football game against the Arizona Cardinals at O.co Coliseum. The Cardinals defeated the Raiders 30-23. Mandatory Credit: Kyle Terada-USA TODAY Sports /
Week 6 of the JBB Mailbag, answering questions from Twitter about the Oakland Raiders loss to the Kansas City Chiefs.
This was a tough one. I made it no secret, leading up to last Sunday's game, that I wasn't losing any sleep over Andy Reid and the Kansas City Chiefs. Whether that decision was due to ignorance or simply blind confidence in this team, I'm still not sure.
It is fair to say that I have been an unapologetic apologist for this team, specifically the defensive unit. Although not even I can excuse what we all witnessed in Week 6. Whether we're looking at statistics, gameplay, or body language, Sunday's game was one no one could hang their helmet on.
Note: Some of the questions were duplicates or similar to other questions that had already been asked. If you don't see your question specifically responded to, that is likely the reason why.
We, here, at Just Blog Baby, knew from the moment the first response came in, that the focus would [continue to] be on the defense. And for great reason. It's just bad.
Everyone has their opinions as to why the struggle has been ongoing, but ultimately no one knows for certain, because if that was the case, one would like to believe that JDR and staff would have made adjustments by now. But isn't the better question, at this point: where are the adjustments?
The ineptitude seems to stem from several players [too many] essentially playing out of position. I believe this is, now, the second column in which I've pointed to negative body language from some players, and I believe that's stemming from being uncomfortable in their role, in this scheme. As for as teaching points, and adjustments, there is a starting point for coaches Del Rio and Norton.
Gene, I can't blame you — nor the countless other submissions we received — for wanting a specific head to roll. What's important to take into account, however, is determining what a KNJ termination would accomplish, or better yet, solve.
Many are assuming that KNJ is the root of all evil, for lack of a better phrase, but I seem to recall the fact that JDR has worn that headset, as well, this season — and the results weren't much better.
Yes. Latavius Murray returned to practice today, and I would assume he plays on Sunday. Whether or not that will be in a limited capacity remains unknown.
I've been screaming this same sentiment for the last month, at least. And the frustration stems from the belief this offense has the ability to throw the ball downfield, at will, because we've seen it on many occasions this season.
Yet, for whatever reason, there are still those designed passes to the flats, that routinely result in little to no gain. You just have to keep believing that the adjustment will come at some point.
I'll have to respectfully disagree. I understand it, but I think we're really focusing [too much] on the Kansas City game, where no one will argue that Carr was less than stellar. There are several throws I know Carr would love to have back.
With that being said, overall, Derek Carr has been sensational in 2016. Carr ranks among the top ten in completions, passing yards, touchdowns, first downs, and passes of 20 yards or more, so far this season. At 4-2, and the engineer of some gutsy game-winning drives, I'm not sure what more can be asked of him.
As JDR said on Monday, "We're a real good team, we just had a bad day."