Raider Nation Nominated in FanSided's Fandom 250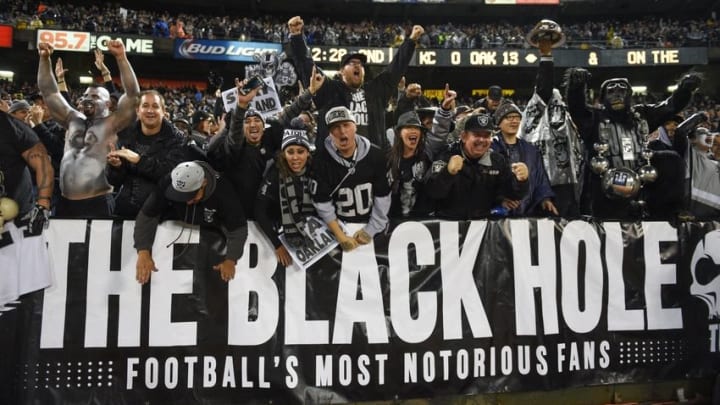 November 20, 2014; Oakland, CA, USA; Oakland Raiders fans celebrate during the second quarter against the Kansas City Chiefs at O.co Coliseum. Mandatory Credit: Kyle Terada-USA TODAY Sports /
Raider Nation, without a doubt the most passionate fanbase in sports, has been nominated by FanSided to be amongst the top 250 fanbases in the world.
On November 1st, FanSided announced an inaugural ranking of the world's 250 best fandoms. This includes sports franchises around the globe, as well as fans of TV shows, movies, superheroes, tech companies like Apple, and more. Anything that has a dedicated fanbase will be considered as a nominee.
""As our network of fandom-powered communities has grown in diversity, we've been continuously inspired by the dedication and passion our readers bring to their favorite sports teams, TV shows, movies, athletes, superheroes….the list goes on and on. As such, we decided to shine a spotlight on those passionate fans by taking on the impossible task of ranking the best 250 fandoms in the world," said FanSided co-founder and CEO, Adam Best."
So for Raider Nation to be included in this list is no small accomplishment, but where Raiders fans will be ranked is to be determined. On December 6th, on FanSided.com, the rankings will be announced.
Without a doubt, Raider Nation will fare quite well in the rankings — it's only a matter of how well.
Even after more than a decade of suffering, Raiders fans stuck with their team. It can be argued that no team in sports, yet alone just football, has had it worse than Oakland since 2002.
Yet, game after game, shoulder-pad clad and face-paint wearing fans would pack the Black Hole, and chants of "RRRRRRAAAAIIIDDDDEEEEERRRRRRS!" would echo throughout the Coliseum.
Take Week 12 of the 2014 season as an example. The Raiders were 0-10, and had not won a regular season game in 368 days. That's right…literally over a calendar year without winning a game.
With the division rival Kansas City Chiefs in town, — a team that was 7-3 and riding a five-game winning streak — it figured to be a blowout, not in favor of the Raiders, of course.
But the atmosphere in the stadium was electric. At 0-10 and not having won a game in over a calendar year, it truly felt like a playoff game. And somehow, the Raiders ended up winning that game 24-20.
What makes fans of the Silver & Black standout above the rest is that when we say "Nation", we mean it. Few fanbases travel as well as the Raiders fans, and few fanbases have as much of a global reach as the Raiders do. Just spend a few minutes on Twitter and you'll interact with fans from Brazil, Argentina, England, Iceland, Germany, just to name a few.
If that doesn't convince you, if you ever find yourself at a game the Raiders are playing on the road, go check it out. This is likely what you'll see.
When the Raiders traveled to Tampa Bay, even their head coach was worried about the turnout, and had to ask for fans to buy tickets and show up the game, knowing Raider Nation would pack the house.
Watch a game a road game on TV and listen after Amari Cooper makes a catch, and you are sure to hear a chant of "COOOOOOOOOP!".
This all speaks to the passion and the dedication of Raider Nation, and why it should not only be ranked in FanSided's Fandom250, but it should be ranked highly.
Check back on December 6th to see where Raider Nation is ranked.