Buy or Sell: Oakland Raiders vs. Buffalo Bills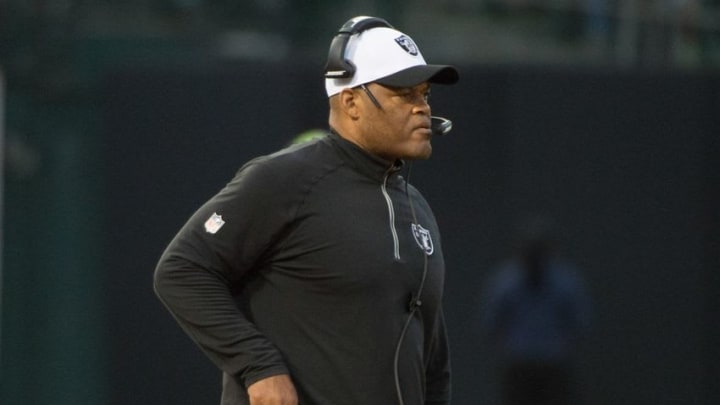 August 30, 2015; Oakland, CA, USA; Oakland Raiders defensive coordinator Ken Norton Jr. during the third quarter in a preseason NFL football game against the Arizona Cardinals at O.co Coliseum. The Cardinals defeated the Raiders 30-23. Mandatory Credit: Kyle Terada-USA TODAY Sports /
Week 13 edition of Buy or Sell following the Oakland Raiders 38-24 victory over the Buffalo Bills.
The Oakland Raiders (10-2) scored 29 unanswered points to come back from a 15-point deficit against the Buffalo Bills (6-6) to notch their sixth consecutive win in Oakland Coliseum on Sunday.
The Silver and Black are finally seen in the media in a positive light, and it just keeps getting brighter.
With some end of the year awards surrounding the Raiders' top players and "Super Bowl contenders" being tagged to their name, it's too easy to buy into the hype and tan beneath the limelight.
Let's take an in-depth, realistic look at the Raiders' current status.
A statement will be given, and the answer will be given in a Buy/Sell format.
August 30, 2015; Oakland, CA, USA; Oakland Raiders defensive coordinator Ken Norton Jr. during the third quarter in a preseason NFL football game against the Arizona Cardinals at O.co Coliseum. The Cardinals defeated the Raiders 30-23. Mandatory Credit: Kyle Terada-USA TODAY Sports /
Fire Ken Norton Jr.
Buy.
Big players make big plays in big games.
Good defensive coordinators prepare good game plans to put together good team performances.
Unfortunately for Oakland, they only have big players.
Raiders defensive end Khalil Mack single-handedly rallied the Raiders' defense back from an abysmal performance fueled by Raiders defensive coordinator Ken Norton Jr.
The Bills' offense racked up 147 yards of total offense in the first quarter before a sack from rookie defensive end James Cowser and a huge tackle for loss from Mack helped keep Buffalo from putting up any points on their two drives in the second quarter.
Norton Jr. then had an opportunity to throw some water on Oakland's defensive dumpster fire with his second half adjustments, but his defense entered the third quarter just as dumbfounded as they did after the opening kickoff. The dumpster fire continued.
Buffalo quickly accumulated 110 yards of offense and 14 points on their first two drives of the third quarter in 14 plays.
The Raiders' defense looked as if they had never seen the read option and forgot the Bills could throw the football.
Oakland finally turned things around riding the momentum of their surging offense, holding the Bills to three consecutive three and outs before the Raiders' best defensive player took control.
Mack forced Bills quarterback Tyrod Taylor into an interception one drive prior to essentially ending the game with yet another strip-sack.
Norton Jr.'s lack of preparation will be brushed under the rug, again. Mack, of course, is the man behind the broom.