Pressures, Hurries, Knockdowns: Oakland Raiders at Kansas City Chiefs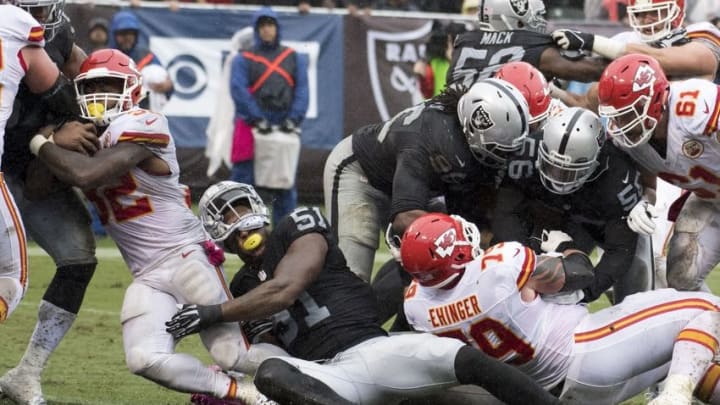 October 16, 2016; Oakland, CA, USA; Kansas City Chiefs running back Spencer Ware (32) scores a touchdown against Oakland Raiders outside linebacker Bruce Irvin (51) during the first quarter at Oakland Coliseum. Mandatory Credit: Kyle Terada-USA TODAY Sports /
Which players on the Oakland Raiders are under the most pressure in Week 14? As well as some quick thoughts (Hurries) and what statements the team is proving to be untrue (knockdowns).
The Oakland Raiders enter Kansas City Thursday night for one of the biggest games in the franchise's history.
Yes they've won three Super Bowls and were routine players in the AFC throughout the 70's and 80's. But it's been some time since the team has had success, and this is a young team looking to make their mark on the NFL.
Make no mistake, after nigh fourteen years of futility, a chance to beat the Chiefs in Arrowhead to secure a two game lead with three to play is huge. A chance to return to the playoffs, to win the division, is huge.
This is the most pressure-packed game the Raiders have played in years. Thus far, they've shown poise under pressure. But this is primetime, on the road, with a lot on the line. Can they keep it rolling?
Who is under the most pressure in Kansas City? What aspects of the Raiders game plan? Plus some quick thoughts and yet another instance of me eating my words, and liking it.
October 16, 2016; Oakland, CA, USA; Kansas City Chiefs running back Spencer Ware (32) scores a touchdown against Oakland Raiders outside linebacker Bruce Irvin (51) during the first quarter at Oakland Coliseum. Mandatory Credit: Kyle Terada-USA TODAY Sports /
Pressures
Defense:
The Raiders are 10-2 and are tied for the second best record in football, but they still have flaws. Namely, stopping the run consistently and limiting big plays in the passing game.
Karl Joseph is in a walking boot, and Shilique Calhoun is likely to miss tomorrow's game as well. Stacy McGee and Darius Latham are listed as doubtful and likely out.
That's two starters and two players who log significant snaps out on defense. McGee and Latham, in particular, are key cogs in the Raiders rush defense.
With them out last week the Bills, particularly Shady McCoy, ran all over the Raiders for over 200 yards and over 6 yards per carry. McCoy had multiple runs of over 10 yards, including a 54-yard burst at the start of the third quarter.
The Raiders defense stepped up when it mattered, forcing three straight three-and-outs at the end of the third and start of the fourth quarters to turn momentum. Khalil Mack then wrecked the game for the Bills, causing an interception on a tipped pass and ending their chances with a strip-sack.
Mack has been an animal recently, logging two strip-sack fumble recoveries in two games to end the opponents chances, snaring a pick-six, and logging at least one sack in seven straight games. But he cannot do it alone.
Someone on this defense needs to step up and start making plays. Mario Edwards Jr. returned to practice this week but has not been activated to the roster and will not suit up against the Chiefs. Aldon Smith is still in limbo.
Bruce Irvin has played well of late in both the run game and rushing the passer, but it hasn't been enough to stem the flow of offense from Buffalo or big plays from Carolina.
The Raiders are hurting on defense, also missing D.J. Hayden who's now on IR and having a gimpy Perry Riley Jr., Cory James, and David Amerson struggling as well.
The Chiefs have discovered some offense recently, and are getting creative. They unpacked new toy Tyreek Hill a few weeks ago and are beginning to learn how to play with him. Albert Wilson is a fast, dynamic receiver who is getting better every week. Jeremy Maclin is healthy and returning this week.
Travis Kelce is a matchup nightmare. Spencer Ware has struggled recently running the ball but is a dual-threat back, and Alex Smith usually doesn't make mistakes.
It all adds up to an offense that can move the ball carefully and methodically, or hit you with a big play. Both of which have been the Raiders weaknesses in recent games.
Now for all that praise and the above mentioned playmakers, the Chiefs still plod along with the 24th ranked offense in the NFL. They are capable, and more willing recently — but they're still not the Raiders on offense.
The Raiders defense is under pressure to stop Ware cold and force the Chiefs to be one-dimensional. With McGee and Latham out, and Joseph and Calhoun possibly as well, it won't be easy. Joseph is a heck of a run-stuffing safety and Latham has been a revelation as a UDFA in the middle.
But if the Raiders can stymie the Chiefs rushing attack and force Smith to throw 35 times, they will have the game tempo they want and the chance to force some turnovers. Mack will get the chance to hunt.
If the Chiefs go off on the ground like the Bills did last week, they have enough in the passing game to make sure the Raiders don't pop off 29 unanswered points. This team is under pressure to play solid defense against an improving offense, because this game will come down to one or two plays and who makes them.
Dec 4, 2016; Oakland, CA, USA; Oakland Raiders quarterback Derek Carr (4) runs the ball against the Buffalo Bills in the first quarter at Oakland Coliseum. Mandatory Credit: Cary Edmondson-USA TODAY Sports /
Pressures
Derek Carr:
Oh no. Derek Carr under pressure. Good, just where he likes to be.
Carr just does not play well against the Chiefs though. They seem to have his number. Last season Carr melted down with three fourth-quarter interceptions to turn a close game into a laugher.
This season, Carr played his worst game of the year and threw a WTF pick to Marcus Peters as the Raiders lost 26-10 at home in October. The Chiefs just play Carr very well.
Carr isn't under pressure because he hasn't played well recently. On the contrary, he's been the Raiders best player with Mack for weeks now.
Carr is under pressure because he may, for the first time all season, really be under pressure. The Chiefs have all their pass rushers — Justin Houston, Dee Ford, and Tamba Hali — healthy for the first time together this season. They'll be coming, and coming hard.
The good thing is, he's vastly improved this season when he's under pressure.
According to Pro Football Focus, Carr has a QB rating of 86.0 when under pressure, and an adjusted completion percentage of 75%. Both are top-5 in the NFL.
Carr has also only been sacked 7 times under pressure, the second-lowest rate in the league, and repeatedly shows a knack for keeping his eyes downfield and making plays out of the pocket.
He's going to need all the poise, calm, and skill under pressure he can muster because the Chiefs will be sending at least three top-flight rushers at him every snap.
The offensive line has shown they can stop a vaunted pass-rush. They held the Broncos to two sacks, one by Von Miller and the other on a CB blitz. Carr is the least pressured QB in the NFL. He's taken the least sacks. He's got great Carr insurance.
But he's under pressure to play well against the Chiefs and limit his turnovers. He's done a marvelous job of that all season – except the first Chiefs game. He fumbled twice, losing one, and had that atrocious pick to Peters.
That's five turnovers in the last five quarters for Carr against the Chiefs. He's the engine that makes this team go, and is rightfully in the MVP conversation as he's playing lights-out, clutch football. But he's gotta do the same in the most important game of his young career thus far for the Raiders to have a chance to win.