Oakland Raiders news: Entire team going Beast Mode in Day 4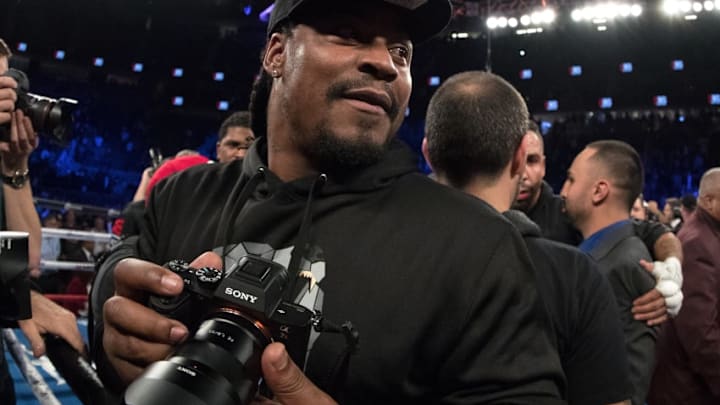 LAS VEGAS, NV - NOVEMBER 19: Former NFL player Marshawn Lynch is seen in the ring after the the light heavyweight title bout between Andre Ward and Sergey Kovalev of Russia at T-Mobile Arena on November 19, 2016 in Las Vegas, Nevada. (Photo by Al Bello/Getty Images) /
Day 4 of Oakland Raiders camp wasn't crisp to Jack Del Rio's liking, but Peter King made an appearance. Marshawn Lynch is fitting in wonderfully so far.
Rise and shine. It's time to be present for the Black Hole Roll Call. What we're going to do just about every morning is share the love with some of the best articles on the Oakland Raiders written the previous day. Click on the ones you want to read and it'll take you to that page.
Tuesday was Day 4 of Raiders training camp and a lot of things went down. Coach Del Rio felt the overall practice was sloppy, but thinks his team has the mental fortitude to correct its own mistakes. There are expectations this year and that's a good thing.
The MMQB's Peter King was at training camp. Marshawn Lynch is making a seamless transition. There was even a player taking a pay cut because the vibes are just too good in Oakland. The Raiders have Wednesday off, so make sure you're completely up to date on what's gone down in camp so far.
Reggie McKenzie wants the "entire team to be beast mode" – Peter King of Monday Morning Quarterback
Great NFL writer Peter King wasn't in Napa Valley strictly for the wine. He had Raiders training camp to attend. King ran into Raiders general manager Reggie McKenzie to talk about their new veteran running back Marshawn Lynch. McKenzie's quote says it all.
Raiders TE Lee Smith helps team with restructured deal – Michael Gehlken of The Las Vegas Review-Journal
Now is a great time to be playing for the Raiders. So good in fact that veteran tight end Lee Smith was totally on board with restructuring his deal to be more incentive laden. He wants to be here and sees his 2017 salary drop from $2.75 million to $1 million so that the money can go elsewhere to help the team. He is a blocking tight end after all and a great teammate.
Related Story: Oakland Raiders: All-time team
Marquel Lee stepping into Raiders' black hole at middle linebacker – Paul Gutierrez of ESPN.com
Paul Gutierrez points out the irony in that Jack Del Rio, McKenzie and Ken Norton Jr. have a bevy of experience playing inside linebacker in the NFL, yet it is a vey inexperienced bunch in Raiders training camp. The guy Del Rio has been raving about is fifth-round rookie Marquel Lee out of Wake Forest. Lee's camp is now one of great intrigue. Maybe he's the one wearing the green dot?
Jack Del Rio: "You Have To Come In And Reestablish Who You Are" – Kyle Martin of Raiders.com
Coach Del Rio isn't giving much thought about what happened last year. Sure, the team had its best season in 14 years, but he wants his players to "reestablish who [they] are". Basically, he wants his guys to put in the work and preparation. Del Rio likes this bunch and thinks his crew is mentally tough.
Next: Oakland Raiders: 5 best players entering 2017 NFL season
Amari Cooper sidelined – Levi Damien of Silver and Black Pride
Training camp is only a few days in, but we've got our first injury. Wide receiver Amari Cooper was held out from practice on Tuesday. Del Rio is definitely not the guy willing to give out injury updates unless he's forced to. Cooper may have been kept out for precautionary reasons. If he's not back to good on Thursday, then his injury may need more investigation.