Raiders could stay in Oakland for 2019 and 2020 seasons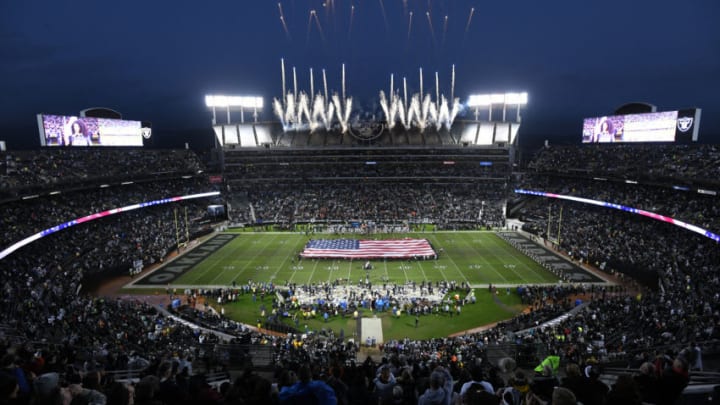 OAKLAND, CA - DECEMBER 24: A view of the national anthem prior to the NFL game between the Oakland Raiders and the Denver Broncos at Oakland-Alameda County Coliseum on December 24, 2018 in Oakland, California. (Photo by Robert Reiners/Getty Images) /
The Oakland Raiders still have no home for the next NFL season, but they could be back in the Bay Area for 2019, and possibly 2020.
One of the bigger questions surrounding the Oakland Raiders this offseason has been, where are they going to play their home games in 2019? The Raiders have been rumored to be playing everywhere from London to San Francisco, but there may finally be some resolution on the horizon.
According to Phil Matier of the San Francisco Chronicle, Oakland would remain in the Bay Area for 2019, playing inside the Coliseum, and would have the option to play there in 2020 as well. Despite a terrible relationship between the team and the Coliseum in recent months, the source told Matier that "all of the major issues … have been resolved."
The Raiders would pay $7.5 million in 2019, with an option to stay in 2020 at $10.5 million, but that is only if their new Las Vegas Stadium is not ready.
Last season, Oakland capped off their terrible 4-12 campaign by winning inside the Coliseum, as the team walked the perimeter of the stands and thanked the fans. Raider Nation is widely regarded as one of the best fan bases in all of professional sports, and to see the team's run in Oakland come to an end has been met with plenty of anger.
The Raiders have to find a place to play next season, as the NFL wants to get their 2019 schedules together ASAP. One more year in Oakland would be special, and the fact that they would have a fallback plan for 2020 makes this deal make a lot of sense.
Oakland did have a rough first season with Jon Gruden back at head coach, but brighter times are coming. They have a ton of first round draft picks over the next two drafts, and it would be nice if the team could put a winning roster on the field for their final season, or seasons, inside the Coliseum.