Oakland Raiders 2019 schedule: The toughest stretch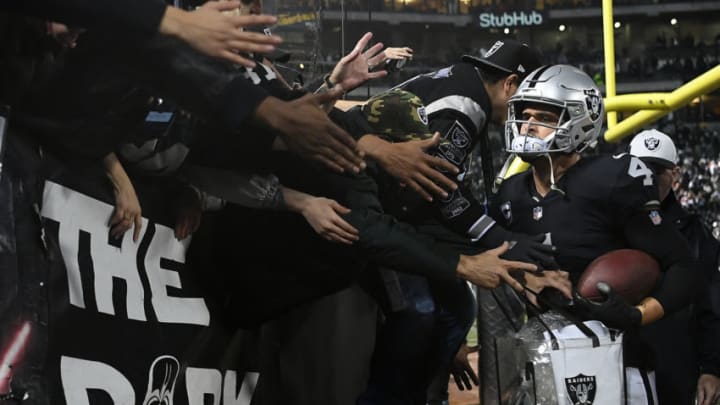 OAKLAND, CA - DECEMBER 24: Derek Carr #4 of the Oakland Raiders greets fans in the stands after their 27-14 win over the Denver Broncos in what may be the final Raiders game at the Oakland-Alameda County Coliseum on December 24, 2018 in Oakland, California. (Photo by Robert Reiners/Getty Images) /
OAKLAND, CA – DECEMBER 24: Erik Harris #25 of the Oakland Raiders celebrates after a interception against the Denver Broncos during their NFL game at Oakland-Alameda County Coliseum on December 24, 2018 in Oakland, California. (Photo by Robert Reiners/Getty Images) /
The toughest stretch
Week 1: Denver Broncos
The Raiders finished the regular season beating the Denver Broncos 27-14 at home on what was then the last Oakland home game. Highlighted by a Dwayne Harris 99-yard punt return touchdown, the Raiders beat their arch rival. This year, the new look Denver Broncos, led by first year head coach, Vic Fangio and quarterback Joe Flacco look to derail Derek Carr's comeback season, and Antonio Brown's first game in the Silver and Black.
Week 2: Kansas City Chiefs
Last year's Week 15 match up in Oakland vs. the Kansas City Chiefs was an all out shoot out with the Kansas City Chiefs besting the Raiders 40-33. This year, the Chiefs roll into town Week 2 led by reigning NFL MVP Patrick Mahomes, who will be looking to have a repeat performance of last season. For this revamped Raiders defense, this is a huge early-season test.
Week 3: At Minnesota Vikings
The Minnesota Vikings are coming off a disappointing first year with Kirk Cousins at the helm of the offense. The Vikings have taken steps to make sure that they will improve in 2019 by inking wide receiver Adam Thielen to a four-year, $64.2 million dollar extension, and retaining free agent Anthony Barr. This will be the first of five road games the Raiders will embark on, all with a 10:00 am Pacific start times.
Week 4: At Indianapolis Colts
In 2018, Derek Carr went 21-of-28, and threw for 244 yards and three touchdowns in a 42-28 rout by the Indianapolis Colts. The Colts are coming off of a 10-6 season in which they lost in the Divisional Round to the Chiefs. On Game 2 of a 5 game road streak, the Raiders look to go into Indy to avenge their last season loss.
Week 5: Chicago Bears
On September 2nd, 2018, the Oakland Raiders traded star pass rusher Khalil Mack to the Chicago Bears for a pair of first round picks (2019 and 2020), a sixth round pick in 2019 and a third round pick in 2020. This is guaranteed to be a date that is circled on every single member of Raider Nation's calendar, as Mack and the Bears fly across the pond to Tottenham, England to face his best friend, Derek Carr and his former team the Oakland Raiders. It will be interesting to see who will be starting at left tackle, as Trent Brown handled Mack mightily last season when Chicago faced him in New England.
Week 6: Bye
Week 7: At Green Bay Packers
The 2018 Oakland Raiders weren't the only team who had a disappointing season, as the Packers finished 6-9, and ultimately ended up firing Head Coach Mike McCarthy. Aaron Rodgers and new head coach, Matt LaFleur look forward to turning the page on last season and restoring the winning tradition in Lambeau. Derek Carr and the Raiders look to come off the bye week strong and shred the cheese.
Week 8: At Houston Texans
On the final game of a five-game road trip, the Raiders travel into Houston for the first time since losing in the Wild Card round of the 2016 playoffs behind third string rookie quarterback, Connor Cook. Carr and company look to avenge this loss and new star receiver, Antonio Brown looks to have a big game, especially against second year defensive back Justin Reid who tweeted "I respect his game but I cant wait to smash this dude (crying laughing emoji) No need for that"
After Week 8, the Raiders finally return home November 3 to face the Detroit Lions, where Nevin Lawson, Tahir Whitehead and Luke Wilson will battle with their former team. If the Raiders can come off of this treacherous stretch of games with a positive win-loss record, the Raiders will be in prime position to make a run at the playoffs in the second half of the season.