Oakland Raiders: A Recap of NFL Films Top-100 games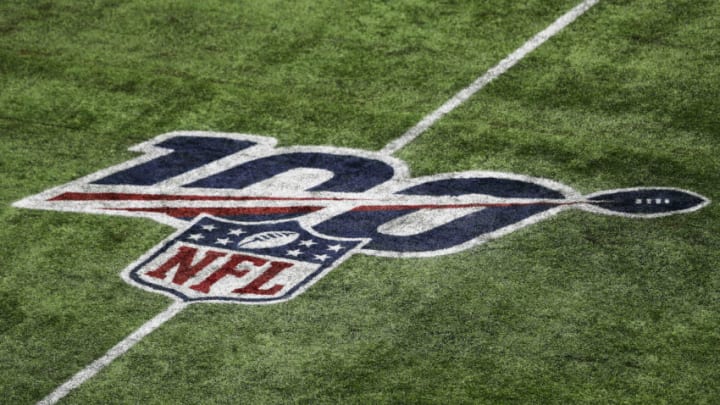 LONDON, ENGLAND - OCTOBER 13: General view inside the stadium of the 100 years of NFL logo on the field during the NFL game between Carolina Panthers and Tampa Bay Buccaneers at Tottenham Hotspur Stadium on October 13, 2019 in London, England. (Photo by Naomi Baker/Getty Images) /
19 Jan 2002: Matt Light #72 of the New England Patriots celebrates after the overtime win in t the AFC playoff game against the Oakland Raiders at Foxboro Stadium in Foxboro, Massachuesetts. The Patriots came from behind to win 16-13 in overtime. Digital Image Mandatory Credit: Ezra Shaw/Getty Images /
15. Tuck Rule
The Raiders have had a good amount of luck in the divisional round throughout their history, but that flipped hard in 2002.
Oakland traveled to Foxborough to face an upstart Patriots team led by a young Tom Brady in a blizzard filled Gilette Stadium.
The weather made it hard to score, but the Raiders went into the fourth with a 13-3 lead. Brady cut the lead to 13-10 on a 6-yard run and had the ball with a chance to tie or win with under 2 minutes.
Fans then bore witness to one of the most controversial calls in NFL history when Oakland's Charles Woodson sacked Brady and had appeared to force a fumble that the Raiders recovered essentially ending the game.
However, after a replay, ref Walt Coleman determined it was actually an incomplete pass citing the "Tuck Rule." Which stated that because Brady's arm had been moving forward before he pulled the ball back to his body, the pass was incomplete. The joke of a call gave the Patriots the ball back, and they would go on to tie and then win the game in overtime.
It is a game that still triggers Raiders fans to this game and will forever live in infamy within the fanbase.
13. The Immaculate Reception
The tuck rule was the Raiders' last division round lost, but their first one might be even more gut-wrenching.
In 1972, the Raiders and Steelers played in a defensive battle that saw Pittsburgh leading 6-0 late in the game. Oakland had only mustered a little over 200 yards in the game, but Ken Stabler made an incredible 30-yard run to give the Raiders a 7-6 lead.
The Steeler got the ball back, and with only 22 seconds left and facing a 4th and 10, it seemed Pittsburgh would not be getting their first-ever playoff win that day. Quarterback Terry Bradshaw desperately looking for a receiver, avoided a sack and threw a ball that was deflected due to a big hit from Oakland's Jack Tatum on John Fuqua.
It seemed like the ball would fall to the ground for an incompletion, but out of nowhere, Franco Harris caught it out the air, and amidst a confused Raiders defense ran 60-yards for a touchdown.
The Raiders were left totally stunned, and the Steelers were off to the AFC championship in the most improbable play in NFL history.