Raiders legend Mike Davis discusses the impact of Willie Brown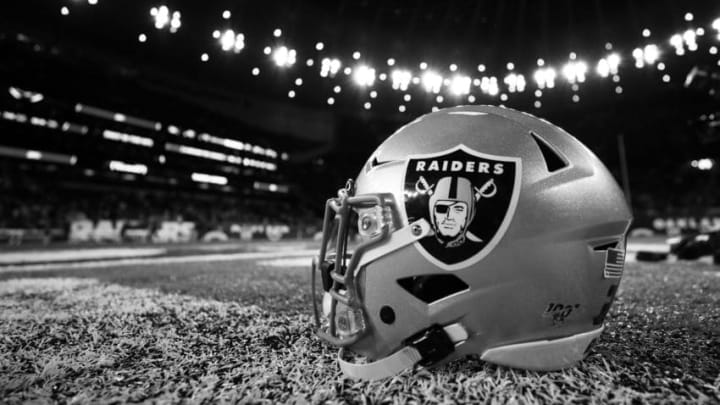 LONDON, ENGLAND - OCTOBER 06: (EDITORS NOTE - This image has been converted to black and white) Oakland Raiders helmet is seen on the field after the game between Chicago Bears and Oakland Raiders at Tottenham Hotspur Stadium on October 06, 2019 in London, England. (Photo by Naomi Baker/Getty Images) /
Raiders legend Willie Brown passed away on Tuesday at the age of 78, and in his lifetime, he touched so many people, while truly defining what it meant to be a Raider.
Today we mourn the man who I had the privilege of knowing my whole life, a man who I consider family, and will always remember as Uncle Willie. This year Raider Nation and the Raiders family has been hit hard with the loss of Cliff Branch, Neiron Ball and now Willie Brown.
As I sit down to pay my respects, the memories of William Ferdie Brown, affectionately known as 'Old Man Willie' to friends, fans and family fill my head, and I cant help to think of the countless people in this world that he had touched.
As an athlete, he will forever be remembered as one of the greatest who have ever played the position, and as a person he would be remembered as much more; a dedicated father, husband, friend and mentor.
The love poured in on Tuesday after his passing, as everyone from Amy Trask to Derek Carr showed Willie their respects.
Willie was a true leader in every sense of the word, as a player he was part of the most fearsome secondary in the history of football, The Soul Patrol where he, Skip 'Dr. Death' Thomas, George Atkinson and Jack Tatum used to strike fear in the hearts of men when they roamed the secondary. Off the field, Willie was a different person, a jubilant, affectionate person who would do anything for anyone he loved.
Willie's passing has affected everyone who has ever had the pleasure of coming into contact with him. A man who has mentored everyone from Mike Davis to Tyvon Branch to Charles Woodson, Willie was the definition of what a Raider epitomized; a person who loved football, gave everything they had to the shield and wore his colors with Pride and Poise.
My Dad, Kenny King Sr., loves to tell me the story of the first time he brought me to training camp when I was still a baby and Willie picked me up and said "we gotta make this baby burp" and gave me a big sip of his Coca Cola. Naturally I burped and everyone thought that was hilarious, but that's just the kind of guy Willie was.
I reached out to Raider Legend, Mike Davis about the passing of Willie Brown and Mike told me the following, "Will took me under his wing from my rookie year until now", this brotherhood transcends longer than when these men hang up the cleats, well after the last snap is played, the last interception is returned and when their name is called over the loudspeaker for the final time.
Because of how instrumental Willie was in Mike's life as a player and after the game was over i asked Mike to offer a statement :
"There are so many good things and so many greater things I can say about Willie..
Willie always listened to what you had to say and what you talked about for your future plans.
During the move from Oakland to Los Angeles, Will and I talked about what a move meant.
I was of different mindset, simply because I was investing in my families future.
Davis continues, "Kinney Hill and I were about to invest in a Wendy's Hamburger Franchise in Danville CA. Two things happened, we moved and Wendy's granted us a Southern CA opportunity in Long Beach and Newport Beach.
While I'm learning the business, Willie calls me up and tells me "you are my running back coach"
"First off I'm not even thinking about coaching."
"Will says Mike I need you someone I can trust… this left me floored. I then recalled, I told Will I wanted to Coach. When Will was awarded the head coaching job at California State University Long Beach after George Allen passed, I was his first call to fill out his coaching staff.
Davis continued "Naturally I'm asking why the running backs, I want to coach defensive backs. Will then said to me over the telephone, Mike, how many times we watched film and video during our time"
"At that I got it and became a fine running backs coach, even had a hand in Terrell Davis' growth  before he transferred to U of Georgia. Willie Brown remembered our conversations from years before," Davis recalled.
"Willie Brown  was a true gentleman, a true friend, teammate, mentor and Big Brother. I will forever love him for raising me up to fully understand and love The Raider way. Willie is true to the motto of The Raiders Commitment To Excellence. Rest in glorious peace Big Brother"
Willie Brown will be forever missed by everyone, but his larger than life persona will always live on, and every year in May we will always remember to say Happy Mother's Day thanks to Willie Brown.
Knowing Willie, as he crossed through the pearly gates he made sure to get a box of peanut brittle and headed straight to Al Davis' office before reuniting with his Soul Patrol brothers.