Las Vegas Raiders fullback Alec Ingold wants to emulate Derek Carr's approach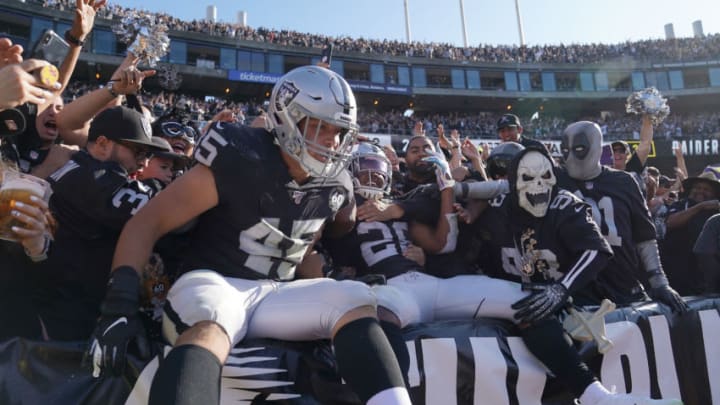 OAKLAND, CALIFORNIA - NOVEMBER 03: Josh Jacobs #28 and Alec Ingold #45 of the Oakland Raiders celebrates with fans in the "The Black Hole" after Jacobs scored on a two yard touchdown run against the Detroit Lions during the second quarter of an NFL football game at RingCentral Coliseum on November 03, 2019 in Oakland, California. (Photo by Thearon W. Henderson/Getty Images) /
AlecIngold Photo by David Eulitt/Getty Images /
The Interview
The Raiders will become the Las Vegas Raiders in 2020, as they leave the Bay Area and make their way to Sin City. For a young player like Ingold, this is a very exciting time, as they not only will be heading to a new City, but also into a brand-new $2 billion stadium, which will be one of the more state-of-the-art in all of football.
Obviously, Ingold is excited to land in Vegas, and he spoke about that in depth.
On the excitement of playing in Las Vegas
"Yea, I think you can't really have much more anticipation than what we have right now for this season.  If you put all of what you just said into a bundle of Las Vegas and then you also take playing meaningful football in week 17 last year, not ending the way you wanted it to, missing out on the playoffs you know by a couple games.  I think a lot of guys are really motivated to make this thing pop the very first year. I know a lot of guys are talking and communicating, there's a lot of motivation to take that next step as a team to come together and really build this foundation stronger for years to come."
As stated earlier, Ingold makes up half of a dynamic duo in the backfield, as he is the main blocker for star running back, and fellow second-year player, Josh Jacobs. Last season, Jacobs was the clear favorite to win the NFL's Offensive Rookie of the Year honors, but he was instead snubbed in favor of Arizona Cardinals quarterback Kyler Murray.
Still, they built up a bond last season that was fun to watch from the outside, and his love for Jacobs was clear when I spoke with him on the podcast.
The relationship with Josh Jacobs
"I talk a lot about how Josh is a great dude who works really hard and is humble but I think it's just the aspect of him being a superstar and then off the field not acting like it.  Because he is a superstar in every sense of the word on the field as a Raider number 28, he has that iconic look to him when he's on the field, with the visor everything like that but then you take the helmet off and your talking to him one on one and he's just the most normal dude you could possible imagine.  A caring guy who wants to get better, who wants to learn, is vulnerable in front of all the guys and I think you put both of those together and it's pretty special."
Heading into year No. 2, Ingold knows there are areas of his game that he will need to improve, as he is still a young player getting his feet wet at the NFL level. Last year, he had to put all of his focus on just making this roster, and now, as a clear member of this roster heading into 2020, he can start to pick parts of his game to improve.
Area of his game he would like to improve in 2020
"Yea man, I think when you take the steps that I had to make to try to make it on an NFL team, on to the roster, get that starting spot.  I was so focused on production, I was so focused on the results of performance during practices during OTA's, the whole way through.  And I think now having a full offseason of focusing on any weak points I have in my game, being able to watch film with other NFL guys on it and trying to see how I  can compare.  I think there's definitely a sense of urgency about getting more explosive, being more consistent, and just being able to play four quarters."
Finally, we discussed starting quarterback Derek Carr, who has been the focus of the Raiders offseasons since Jon Gruden took over as head coach. Entering his seventh season as the starter for the Raiders, all eyes on are Carr producing wins, as the team has been to the playoffs only once during his career.
We discussed Carr at length, and it is clear Ingold feels a certain way about DC.
Derek Carr's leadership abilities
"Being able to work with Derek every single day, he's a guy that's been as much of a pro that I can imagine.  I love the guy to death and I think seeing a guy that puts so much effort and blood, sweat, and tears into an organization I know he's committed 100 percent regardless and just being around a guy like that makes me want to commit my blood, sweat, and tears to a program.  He's a leader by example, everyday he shows up with that same intensity that same grind whether we are running routes in the offseason or it's week six of the regular season, it's all the same to him and I think that's a guy I definitely try to emulate my game after when it's the approach to the game and the approach to details."
Ingold is one of the better young fullbacks in the NFL, and he is only going to get better now that he has secure his spot on this roster. The Raiders have solid talent on the offensive side of the ball, that is clear, and if they can add a dynamic wideout  in the first round of the 2020 NFL Draft, they should be set.