Countdown to 2020: Best Raiders player to wear No. 65 all-time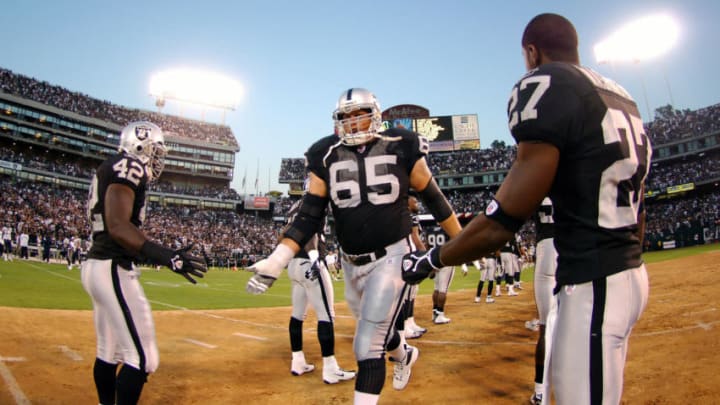 Oakland Raiders offensive guard Barry Sims is greeted by ReShard Lee (42) and Fabian Washington (27) during player introductions before ESPN Monday Night Football game at McAfee Coliseum on September 11, 2006. (Photo by Kirby Lee/NFLPhotoLibrary) /
Mandatory Credit: Al Bello /Allsport /
Countdown to 2020: Best Raiders player to wear No. 65 all-time
Wayne Hawkins (1960-1969)
The Denver Broncos selected Wayne Hawkins in Round 2 of the 1960 AFL Draft, but he never played a single down with the franchise. Instead, he would go on to play his entire career with the Raiders, who picked him up in an allotment draft and made him a cornerstone along their offensive line.
Hawkins played for the Raiders during their entire ten-year run in the AFL, helping them to the 1967 AFL title. The product of the University of the Pacific was a five-time All-AFL player, playing next to Jim Otto and clearing the way for Clem Daniels to dominate the run game, and helping bring the Raiders from a perennial loser to a championship contender.
A member of the AFL Hall of Fame, Hawkins saw his career end due to a knee injury, but not before starting over 100 games for the franchise. Hawkins was named to the franchise's all-time team, and his ten-year run with the team solidified his place as the best Raider to wear No. 65 in team history.