Las Vegas Raiders 2020 Week 14 review: Studs and Duds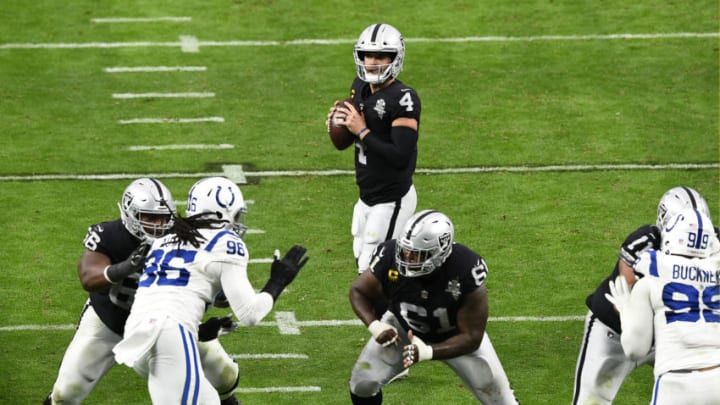 LAS VEGAS, NEVADA - DECEMBER 13: Quarterback Derek Carr #4 of the Las Vegas Raiders looks to throw against the Indianapolis Colts in the second half of their game at Allegiant Stadium on December 13, 2020 in Las Vegas, Nevada. (Photo by Chris Unger/Getty Images) /
Las Vegas got rid of Paul Guenther after the loss to the Colts. (Photo by Chris Unger/Getty Images) /
Las Vegas Raiders 2020 Week 14 review: Studs and Duds
Duds: Paul Guenther
How many times will Paul Guenther make this list? As many times as the Raiders have given up 30 or more points this season and unfortunately, that has happened many times. The Raiders' defense may not be the worst in the NFL based on statistics, but they could be the worst by the eye test.
The stats show that they generate a pass rush at a decent clip and that even with their struggles in the passing game, they are still at least decent against the run. The last two weeks dispute all of the statistics as they were first embarrassed by a Jets team that could end up being one of the worst teams in NFL history and were gashed repeatedly by the Colts running game.
Most maddening of all is that so much of the Raiders' issues on defense seem like such basic issues. They don't maintain outside contain, defensive backs and linebackers don't take the right angles in pursuit, and no one seems to maintain discipline in their coverage assignments. These are all issues that a competent defensive coach would be able to clean up to some degree but we see no improvement by Paul Guenther's unit.
The last two seasons Guenther had the excuse of losing Khalil Mack and then all of the injuries last year but the time has run out on his tenure as the defensive coordinator of the Raiders. Initially, it seemed like the Raiders may wait until the end of the season to let him go but they decided, much like Raider Nation, that enough was enough and relieved him of his duties as of Sunday night.