Las Vegas Raiders: 15 best defensive backs of all-time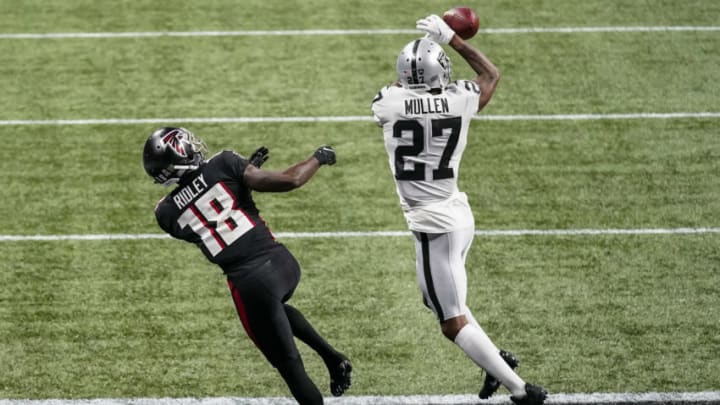 Las Vegas Raiders cornerback Trayvon Mullen (27) Mandatory Credit: Dale Zanine-USA TODAY Sports /
Oakland Raiders cornerback Lester Hayes runs up the field after recovering a fumble (Photo by Arthur Anderson/Getty Images) *** Local Caption *** /
2x Super Bowl Champion (XV, XVIII)
NFL Defensive Player of the Year (1980)
NFL 1980s All-Decade Team
First-Team All-Pro (1980)
5x Pro Bowl (1980-84)
5x Second-Team All-Pro (1979, 1981-84)
NFL interceptions leader (1980)
While Dave Grayson's absence from the Pro Football Hall of Fame is unsettling, Lester Hayes' absence is borderline egregious. Along with standout wide receiver Cliff Branch, they are the two best longtime Raiders that are eligible without a bust in Canton, Ohio. So what gives?
Hayes spent his entire 10-year NFL career with the Silver and Black. He was a former fifth-round pick by Oakland in the 1977 NFL Draft out of Texas A&M. Hayes came to the Raiders the year after they won their first Super Bowl in 1976 over the Minnesota Vikings.
By the time he was a second-year pro in 1979, Hayes had already cracked the starting lineup out at cornerback for the Silver and Black.
While he did make Second-Team All-Pro in his third season in the league in 1979, Hayes' true breakout season came in 1980. Statistically, it was Hayes' best season as a professional, as he led the league with an absurd 13 interceptions for 273 yards and a touchdown.
Hayes made his first of five straight trips to the Pro Bowl that fall. He was not only First-Team All-Pro for the first and only time in his career, but he won NFL Defensive Player of the Year after his all-time ball-hawking campaign. Oakland would win Super Bowl XV over the Philadelphia Eagles that winter as well.
Though the 13 picks in 1980 was an outlier season for Hayes, he still managed a few interceptions here and there in the Raiders secondary. So why the stark drop-off in interceptions post-1980? Well, have you ever heard of Stickum?
Yes, nobody loved Stickum more than Hayes. He was first introduced to the product as a rookie by Raiders star wide receiver Fred Biletnikoff. Instead of using it in moderation, Hayes notoriously would lather up both of his arms in the adhesive and go play ball. Needless to say, Stickum was banned after Hayes' 13-interception campaign in 1980.
Sure, the picks went to the wayside, but Hayes' other skills in the secondary stuck with him until the very end. He was a bump-and-run corner, forming a nice tandem with Mike Haynes following his arrival in 1983 in Los Angeles for a few seasons. The Raiders would win their third Super Bowl in 1983 over the Washington Redskins when they were located in Los Angeles.
Hayes retired after the 1986 NFL season at 31 years old. Though an NFL All-Decade Team member for the 1980s, Canton continues to evade "The Judge". Maybe the whole banned substance narrative hasn't really aged well with time? Regardless, you can't tell the tale of great Raiders' defensive backs without mentioning "Lester the Molester".