Las Vegas Raiders: 15 best defensive backs of all-time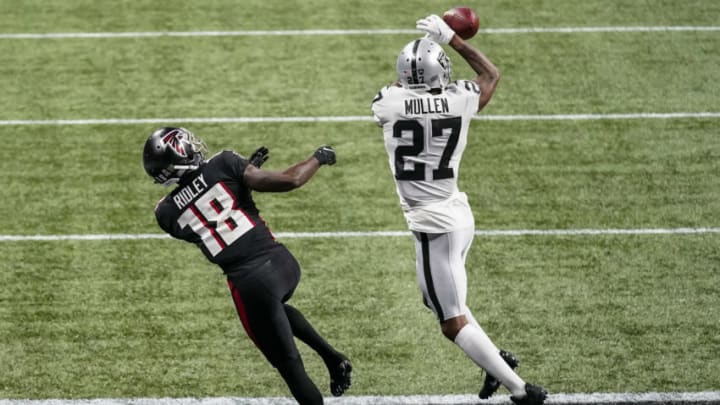 Las Vegas Raiders cornerback Trayvon Mullen (27) Mandatory Credit: Dale Zanine-USA TODAY Sports /
(Photo by NFL via Getty Images) /
Pro Football Hall of Fame (Class of 2009)
NFL 75th Anniversary Team
First-Team All-Pro w/Raiders (2002)
Pro Bowl w/Raiders (2002)
NFL interceptions leaders w/Raiders (2002)
Like Ronnie Lott before him, defensive back Rod Woodson was already Canton bound by the time he joined the Raiders organization. Woodson had already put 15 outstanding NFL seasons on his résumé before his Raiders arrival in 2002. However, he still had one last elite season left in the tank, and the Raiders certainly benefited from that.
Woodson initially built his hall of fame career as the ballhawking terror for the Pittsburgh Steelers in the late 1980s to mid-1990s. The perennial All-Pro eventually won a Super Bowl as a member of the Baltimore Ravens, a team he spent four years towards the end of his career.
Could Woodson have called it a career after the Super Bowl XXXV championship over the New York Giants and been a lock for Canton? No doubt, but he played another three excellent years before hanging up the spikes after the 2003 campaign at age 38.
In his first year with the Raiders in 2002, the team made it all the way to the Super Bowl. Woodson led the league in interceptions with eight for 225 yards and two touchdowns at age 37. He made his 11th Pro Bowl and his sixth First-Team All-Pro during that last elite NFL season of his.
Though Woodson made it to three Super Bowls with three different AFC teams, he only was able to hoist the Lombardi Trophy once while with Baltimore. Pittsburgh came up short to the Dallas Cowboys in 1995 and the Raiders couldn't get it done versus Jon Gruden's Tampa Bay Buccaneers in 2002.
While it was only a two-year stint with the Raiders late into his 30s, Woodson undoubtedly proved that he was one of the greatest defensive backs in NFL history. In his two years with the Silver and Black, he had 110 tackles, 23 assists, 10 interceptions for 243 yards and two touchdowns and four fumble recoveries for 64 yards in 26 games.
Woodson ended up with a ridiculous 71 interceptions for 1,483 yards and 12 touchdowns in his unbelievable 17-year NFL career. Not long after hanging up the spikes, the accolades started to mount for Woodson.
Still in his playing career, Woodson made it on to the NFL 75th Anniversary Team. He would be a no-doubt first-ballot Pro Football Hall of Fame inductee in 2009. His Canton classmates include Randall McDaniel, Bruce Smith, Derrick Thomas and Ralph Wilson Jr. Woodson has also been enshrined in the College Football Hall of Fame for his outstanding career at Purdue University. From 2011 to 2017, Woodson had been a Raiders assistant coach, primarily in the defensive backfield.