Las Vegas Raiders: 15 best defensive backs of all-time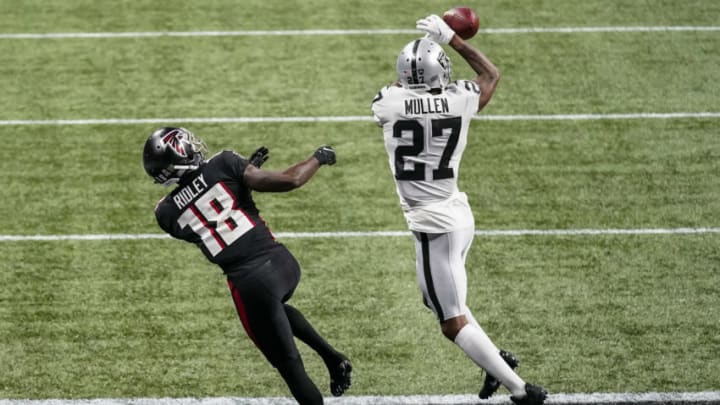 Las Vegas Raiders cornerback Trayvon Mullen (27) Mandatory Credit: Dale Zanine-USA TODAY Sports /
(Photo by Thearon W. Henderson/Getty Images) /
2x All-AFL (1962-63)
3x AFL All-Star (1961-63)
25 career interceptions for 293 yards in 56 games w/Raiders
Nicknamed "The Hammer"
Pow! That was basically what it was like when former Raiders cornerback Fred Williamson would essentially karate chop an AFL wide receiver in the head when making a tackle. Though his signature move in the secondary is obviously now illegal in the NFL, Williamson did enough in his four years with the Raiders to crack the top-10 and make it in as the No. 9 best defensive back all-time.
Williamson played his college ball at Northwestern in the late 1950s. After being undrafted out of Northwestern, Williamson would spend one year in the NFL with the 1960 Pittsburgh Steelers. It was there he switched to the defensive side of the ball and his signature karate-chopping style of tackling would first come to being.
When he was playing against the San Francisco 49ers, the opposing coaching staff didn't take too kindly to the way Williamson was bringing down tacklers. No, he wasn't going to quit hammering wide receivers. That would be what helped cement his football nickname of "The Hammer".
While that sort of tackling didn't exactly fly in the NFL, it sure did in the AFL. Williamson would spend his first four seasons in the AFL with the Raiders. Right away, he would be named to the AFL All-Star Game in 1961. Williamson did that for three-straight seasons with the Raiders from 1961 to 1963.
https://twitter.com/NFL/status/1182825782348931072
In 1962, Williamson made his first All-AFL team as he had eight interceptions for a league-high 151 return yards and a touchdown. He would be all-league again in 1963, when Williamson had six interceptions for 44 yards.
After another six-interception campaign in 1964, Williamson would make his way to the rival Kansas City Chiefs, where he would spend the next three seasons. Though he wasn't the pick master he was in Oakland, Williamson was a fearsome defender in the Chiefs secondary, helping Kansas City make it to the first-ever Super Bowl in 1967. That would be his last game as a professional.
Williamson tried to play in the CFL with the Montreal Alouettes in 1968, but elected to retire to begin a successful film career. See, Williamson was just meant to be an action star. He starred opposite of former Cleveland Browns great Jim Brown on a few occasions in the 1970s.
In almost every single movie, Williamson got to showcase his martial arts skills. Frankly, he's probably better known for being an action star in blaxploitation films in the 1970s than his AFL career.
Overall, Williamson finished with 25 interceptions for 293 yards and a touchdown in 56 career games with the Raiders over four seasons. Certainly a fan favorite in both Oakland and Kansas City, Williamson undoubtedly used football as a platform for him to be an action star. Not bad for an undrafted player out of Northwestern.