3 Reasons the Las Vegas Raiders will make the playoffs in 2021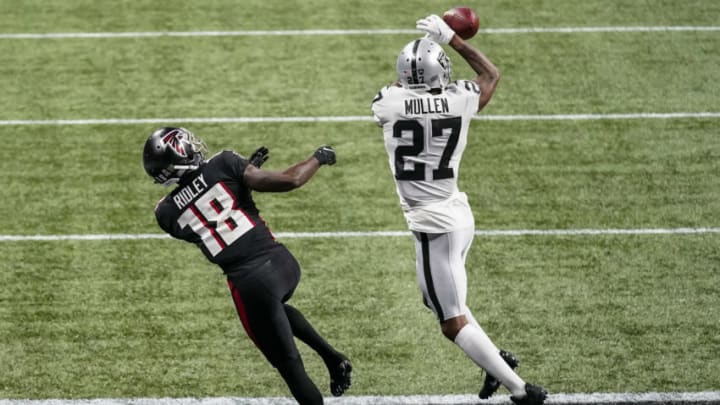 Las Vegas Raiders cornerback Trayvon Mullen (27) Mandatory Credit: Dale Zanine-USA TODAY Sports /
Raiders added Yannick Ngakoue. (Photo by Bryan Bennett/Getty Images) /
The Las Vegas Raiders are looking to make the playoffs for only the second time since the 2002 NFL season, and here is why they will do it.
Jon Gruden and the Las Vegas Raiders have flirted with the playoffs in the past two seasons, reaching a record of 6-3 two years in a row before falling apart in the second half of the season. Now, entering the 4th year of his ten-year contract, Gruden hopes to lead his team to their first playoff berth since 2016. Las Vegas definitely has a solid chance of doing this, and here's why.
3 Reasons the Las Vegas Raiders will make the playoffs in 2021
Revamped Defense
The Las Vegas defense in 2020 was absolutely atrocious, as the group was one of the worst in the NFL, ranking 25th in total yards per game, 26th in passing yards per game, and 28th in penalty yards per game. Thankfully, after those horrendous results, Las Vegas decided to part ways with now-former defensive coordinator Paul Guenther.
This firing allowed for the hiring of defensive coordinator Gus Bradley, who forged formidable defenses for the Los Angeles Chargers, the Jacksonville Jaguars, and most notably the Seattle Seahawk's Legion of Boom.
Bradley should be able to come in and improve the defense, as his Cover 3 scheme should fit well with some of the Las Vegas personnel, especially Cory Littleton, who was one of the best coverage linebackers in the league before joining Las Vegas. Bradley's scheme is also apparently much simpler and straightforward as well, which is a good contrast from Guenther's which was said to be overcomplicated and contained more plays than necessary.
Bradley should also get the best out of a player like Johnathan Abram, who will likely be used as a box safety or pseudo linebacker that can stop the run, rush the passer, and occasionally drop into coverage.
The new faces on defense, such as Yannick Ngakoue and Trevon Moehrig should add another layer of depth and skill to the defense. By improving defensively, a lot of pressure will be taken off of the offense, who would no longer have to score on every single drive like they did in 2020.
Even if the Las Vegas defense is only a top-15 defense in the league, that's still a vast improvement that should allow them to make the playoffs in 2021.