Las Vegas Raiders made smart move cutting CB Damon Arnette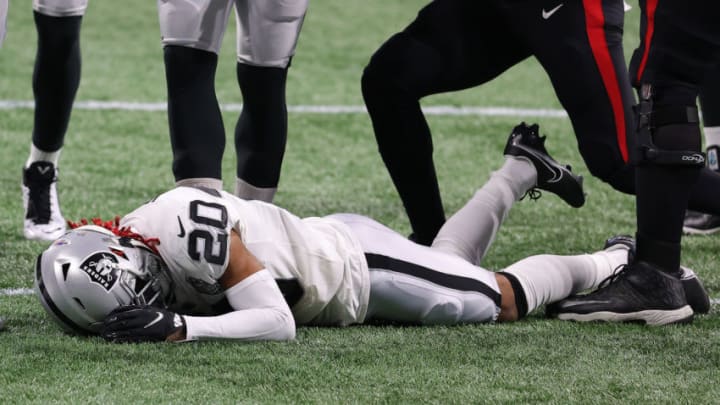 ATLANTA, GEORGIA - NOVEMBER 29: Damon Arnette #20 of the Las Vegas Raiders lays on the field after a the opening kickoff against the Atlanta Falcons at Mercedes-Benz Stadium on November 29, 2020 in Atlanta, Georgia. (Photo by Kevin C. Cox/Getty Images) /
The drafting of Damon Arnette by the Las Vegas Raiders was always seen as a reach, and his issues on and off the field spelled a quick end for the cornerback.
During the 2020 NFL Draft, the Las Vegas Raiders held two first-round picks, as the team looked to continue to build up the roster for the long haul. Unfortunately for the Silver and Black, they missed on both picks, as Henry Ruggs III and Damon Arnette are both no longer a part of the organization.
We all know the story of Ruggs by now, and due to his role in a tragic car accident early Tuesday AM, he was cut by the team later that day. Now, his fellow first-round pick will join him as being cut within a week of each other, with Arnette being shown the door on Monday afternoon by the franchise.
Arnette has been a terrible player on the field, battling inconsistent play and injuries, and the final straws came to light late last week. After it was revealed that he had been involved in a car crash outside the facility last year, Arnette was then on social media brandishing a gun and threatening to kill someone.
For a franchise that has dealt with so much this year, there was no way Arnette was going to keep his roster spot, and the team rightfully got rid of him Monday. Arnette is no big loss, as he was not someone who was a part of the plan moving forward, and the team will now move on with their first three picks from that 2020 class gone.
Raiders continue to have issues off the field
This was just another in a long list of issues this team has had off the field this season, starting with head coach Jon Gruden a few weeks back, and culminating in Arnette's firing. Based on his play, and his issues off the field, Arnette is likely to clear waivers, and it will be interesting to see if any team is going to give him a chance to prove why he was a first-round pick.
For Las Vegas, they must turn their attention to their Week 10 matchup, as it is a huge one against division rival Kansas City. The CHiefs are nowhere near the dominant team they have been in years past and playing them at home, is a golden opportunity to prove they are legitimate contenders to unseat them as division champs this season.