Is Ed Dodds replacing Mike Mayock as the Raiders GM?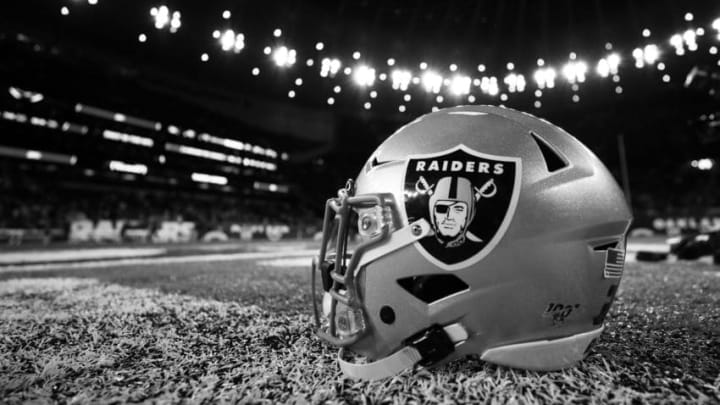 LONDON, ENGLAND - OCTOBER 06: (EDITORS NOTE - This image has been converted to black and white) Oakland Raiders helmet is seen on the field after the game between Chicago Bears and Oakland Raiders at Tottenham Hotspur Stadium on October 06, 2019 in London, England. (Photo by Naomi Baker/Getty Images) /
The Las Vegas Raiders are now in search of a new general manager with Mike Mayock out, and it looks like Ed Dodds could be a prime candidate for the job.
December 17, 2021, was a huge day for the Raiders franchise, as it marked the end of the Jon Gruden/Mike Mayock era with the Silver and Black. In the grand scheme of things, it is bittersweet considering that nearly three years of work by the duo finally resulted in a playoff berth.
However, owner Mark Davis clearly wasn't satisfied with this accomplishment, and he let the first domino drop on Monday with Mayock's firing. Could one of Al Davis's disciples soon be taking the reins in Sin City?
Before the news regarding Mayock became official, rumors were flying about potential replacements. Among those names was Ed Dodds, the current assistant general manager of the Indianapolis Colts.
For those of you that are too young to remember, Dodds started working under the legendary owner back in 2003 in the team's personnel department. Interestingly enough, Dodds was with the Silver and Black while Jim Harbaugh (current candidate for the Raiders' head coaching job) was in his first NFL coaching job as Raiders quarterbacks' coach.
Most notably, he spent a decade, from 2007–2016, with the Seattle Seahawks as they became a powerhouse and perennial playoff team. In fact, the team accumulated ten playoff victories and two Super Bowl victories, winning one of them. Basically, Dodds knows how to win.
Back in 2019, Dodds spoke with The Athletic's Zak Keefer in an interview where the young executive made it clear he doesn't care for complacency. More importantly, he doesn't care about playoff appearances or win streaks.
""I just felt like everyone was jacked, we're on this win streak, and I'm kinda like, what the fuck does it matter?" Dodds said a few months later. "If we don't go to a Super Bowl, so what? A couple of injuries, bomb a couple of draft picks, no one in the pipeline to replace the players you lost? You gotta be relentless. You can't stop. I don't." -Dodds via The Athletic"
Whether Dodds gets the job is anyone's guess, though social media is ablaze right now with rumors and speculation.