Raiders 2022 7-round NFL Mock Draft after the Russell Wilson trade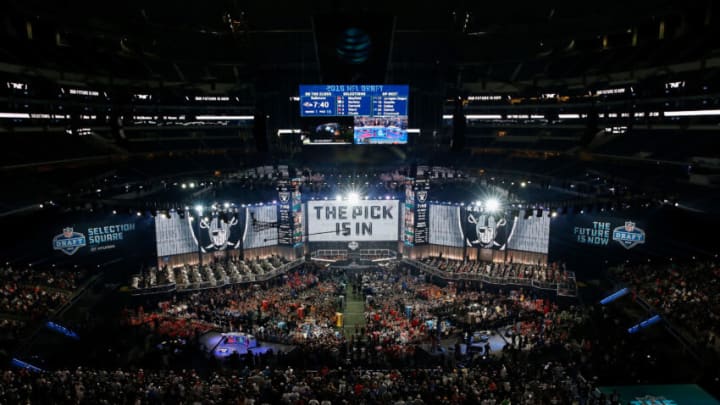 ARLINGTON, TX - APRIL 26: A video board displays the text "THE PICK IS IN" for the Oakland Raiders during the first round of the 2018 NFL Draft at AT&T Stadium on April 26, 2018 in Arlington, Texas. (Photo by Tim Warner/Getty Images) /
INDIANAPOLIS, IN – MARCH 04: Travis Jones #DL14 of the Connecticut Huskies speaks to reporters during the NFL Draft Combine at the Indiana Convention Center on March 4, 2022, in Indianapolis, Indiana. (Photo by Michael Hickey/Getty Images) /
With Russell Wilson now in the division, a lot of fans would probably want to see a corner get picked up right about now. Well, I have different plans, and I believe the Las Vegas Raiders do too.
There's simply too much going on in the division to take a gamble in the draft. As such, I firmly believe Ziegler will look the way of one of his old New England buddies; Stephon Gilmore or JC Jackson, with my prediction being the latter. If this fails to happen, McCreary would be my pick here, assuming he's still available after a poor combine.
What really cements my theory of Gilmore or Jackson coming to Vegas is the wideout market becoming so dry. Davante Adams was tagged by Green Bay and seeing how quarterback Aaron Rodgers is signing an extension, it's likely he's content staying. Now, I'm unsure if he was ever in Ziegler's plans, to begin with, but all the money Vegas could've given him has to go somewhere.
Just a moment ago, I emphasized that there's an abundance of options that make sense when it comes to addressing the interior defensive line – Which is true. However, I'm not convinced any are long-term options. Travis Jones, on the other hand, is a long-term option.
Jones comes in at 328, being every bit as big as the first-round pick Kenyon Green. Also like Green, he understands how to use his weight to his advantage. He was able to put up 4.5 sacks last year, which may not be eye-opening, but it doesn't have to be. His game is dominating in the trenches, where he is excellent against the run; The 8.5 sacks he put up throughout college is just a bonus.
What Vegas gets in the 6'4 defensive tackle is stability up the middle against the run for years to come. Jones can truly be an anchor for a defensive line, showing he can get in the backfield with ease as he recorded 7.5 tackles behind the line.
Like Crosby, Jones is willing to give you all he has every down. If you can pair these two up on the line, they will feed on each other's energy for four quarters.