Raiders: What to take from Dave Ziegler and Josh McDaniels' talk with the media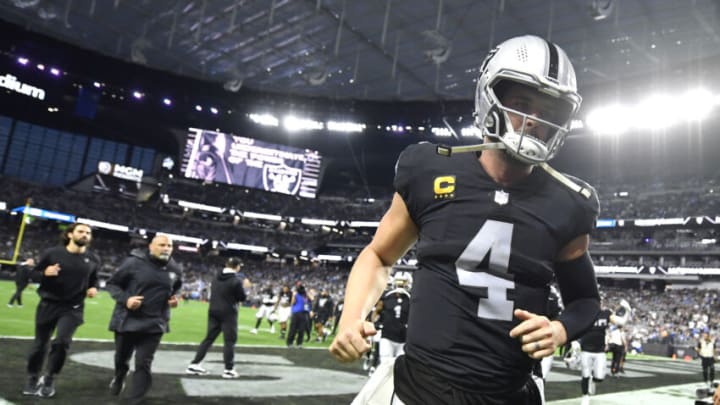 LAS VEGAS, NEVADA - JANUARY 09: Quarterback Derek Carr #4 of the Las Vegas Raiders runs off the field after warmups before a game against the Los Angeles Chargers at Allegiant Stadium on January 09, 2022 in Las Vegas, Nevada. The Raiders defeated the Chargers 35-32 in overtime. (Photo by Chris Unger/Getty Images) /
LAS VEGAS, NEVADA – JANUARY 09: Quarterback Derek Carr #4 of the Las Vegas Raiders prepares to take the field before a game against the Los Angeles Chargers at Allegiant Stadium on January 09, 2022, in Las Vegas, Nevada. The Raiders defeated the Chargers 35-32 in overtime. (Photo by Chris Unger/Getty Images) /
Raiders: What to take from David Ziegler and Josh Mcdaniels' talk with the media
Derek Carr's extension
It's been well documented since head coach Josh McDaniels was hired that quarterback Derek Carr was going to be the team's immediate quarterback. McDaniels, assuring this was the case, has even answered the question if Carr will be the week-one starter.
"Sure, absolutely. There's no doubt about it".
Following that, the Raiders began extension talks with Carr earlier this month. Being there has been no public update on the situation, a question about the progress came up. McDaniels' answered this by saying a lot, without actually saying anything at all.
"When we get into those conversations with Derek, Derek's going to have to make decisions about what's best for him; That's what every man's right is, and at the same time we have to try to do what's right for the team. There will be a sweet spot in there hopefully for everybody, and we'll be excited to go forward like that"."
Now, depending on how you read this, you might get the impression there's some encryption in that statement. However, McDaniels was pretty clear that the Raiders want Carr, and of course, Carr wants to continue being a Raider.
Derek's agent, Tim Younger, followed up on Mcdaniels' comments by stating, "Clubs always do 'what is best for the team in every situation'", and reminding everyone, "successful negotiations always end in a 'sweet spot'".
We knew both the front office and McDaniels want Carr to stick around, and we knew that Carr will be the week-one starter, barring injury. What we didn't know, though, was exactly how McDaniels felt about Carr's fit with the team. Once again, the Raiders' head coach assured Raider Nation that no.4 is the quarterback they want for the future as well, as his relationship with Carr continues to grow.
"Derek's fit on the team. as a player, is obviously what we're looking for and what we're trying to build around".
General manager Dave Ziegler later commented on this, stating that negotiations are personal for all sides. As such, Ziegler believes the most appropriate way to conduct business is to keep these talks in-house, which is likely why an update hasn't been given, and probably won't be until there's a final word. The Raiders have paid attention to Deshaun Watson's contract, though, acknowledging it sets the market.
What's important to know, is the Raiders and Carr are not in a disagreement phase by any means. While it's uncertain how much progress has been made here, everything is 'A Ok' right now