Raiders: Will the Andre James era continue moving forward?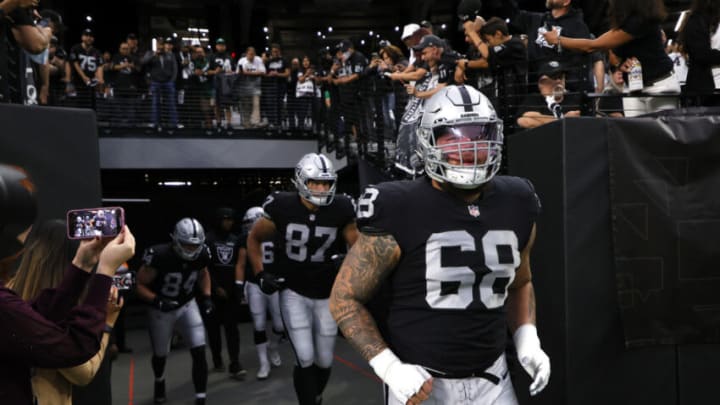 LAS VEGAS, NEVADA - OCTOBER 24: Andre James #68 of the Las Vegas Raiders takes to the field before the game against the Philadelphia Eagles at Allegiant Stadium on October 24, 2021 in Las Vegas, Nevada. (Photo by Ethan Miller/Getty Images) /
LAS VEGAS, NEVADA – NOVEMBER 21: Center Andre James #68 of the Las Vegas Raiders prepares for a play during the second half of a game against the Cincinnati Bengals at Allegiant Stadium on November 21, 2021, in Las Vegas, Nevada. The Bengals defeated the Raiders 32-13. (Photo by Chris Unger/Getty Images) /
Raiders' new center struggles
Last year marked Andre James' first season as a full-time starter, so it's hard to get under his skin too much regarding his abysmal start. Still, there were plenty of head scratchers and downright inexcusable mistakes from the Raiders' new center.
One of the biggest problems James' had from the start of last season was snapping the ball to his quarterback, Derek Carr. It seemed like there was at least one instance a game during the first month of football where James snapped the ball over Carr's head, causing either a fumble or a dead down. The reason it seemed that way is that that's exactly what happened.
This was something James absolutely had to focus on moving forward, and to the 6'4 center's credit, great progress was made here. This issue seemed to vanish as the season went on, and James found his rhythm when snapping the football.
It wasn't only the snaps James struggled with.
When it came to blocking in general, James had a tough time. With a grade of 40.8 during the first six weeks of the season, including a run blocking grade of 38.1, no center across the league had a worse grade during this timeframe than the Raiders' center, per Pro Football Focus.
Due to the start of the season being about as poor as it could be, the second half of James' first year as a starter was a spectacle nobody could've seen coming.