3 Possible Scapegoats for the Las Vegas Raiders in 2022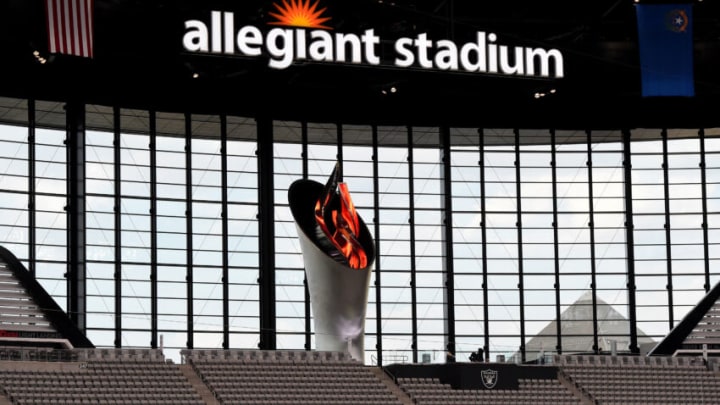 LAS VEGAS, NEVADA - SEPTEMBER 21: The 95-foot-tall Al Davis Memorial Torch is shown behind empty stands after it was turned on during an NFL game between the New Orleans Saints and the Las Vegas Raiders at Allegiant Stadium on September 21, 2020 in Las Vegas, Nevada. The Raiders defeated the Saints 34-24. (Photo by Ethan Miller/Getty Images) /
OAKLAND, CA – AUGUST 19: A detailed view of a helmet belonging to an Oakland Raiders player sitting on top of a Gatorade cooler against the Los Angeles Rams during the fourth quarter of their preseason NFL football game at Oakland-Alameda County Coliseum on August 19, 2017, in Oakland, California. The Ram won the game 24-21. (Photo by Thearon W. Henderson/Getty Images) /
The Las Vegas Raiders have a playoff-ready team in 2022, but if they falter, here are some possible scapegoats.
It is a tale as old as time, especially when it comes to the NFL. If a team is not able to meet its goals, a scapegoat is typically determined and singled out. Whether it is the noble Bruce Wayne at the end of The Dark Knight, or Paul Guenther at the hand of Jon Gruden, people tend to search for someone to blame when things go awry.
The Las Vegas Raiders will head into the 2022 campaign with seemingly mixed expectations. The national media has been leaning towards favoring the other talented teams in the AFC West, while many of those directly covering the Raiders (as well as Raiders fans, themselves) come in with aspirations a bit higher. After all, the Raiders are coming off of a playoff berth last season and then proceeded to add elite talent with the likes of Davante Adams and Chandler Jones.
Additionally, there will be heavy pressure on returning Raiders players to produce and cement themselves in the vision of the new Las Vegas regime. What we can confidently speculate at this point is that Josh McDaniels and Dave Ziegler will both be safe from being mentioned even in the same sentence as the word 'scapegoat.' The new Raiders' brain trust has little pressure in its first season. McDaniels and Ziegler are still building the team in their image and, even with his new contract, Derek Carr is still not heavily committed to in the future.
If there is a disappointing season in Sin City, though, there will be a lot of frustration from both fans and players. Whether fairly or unfairly, the lion's share of the blame will be assigned to somebody. As training camp heats up and we await the Raiders' preseason opener, let's take a look at a few possible scapegoat candidates if one is necessary.