Raiders: Josh Jacobs is not being traded despite interest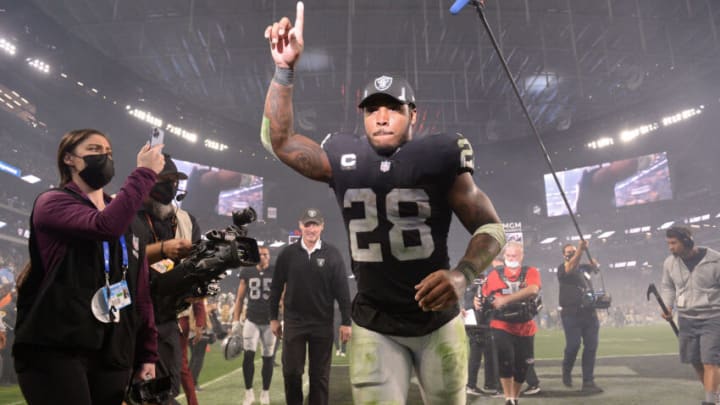 Jan 9, 2022; Paradise, Nevada, USA; Las Vegas Raiders running back Josh Jacobs (28) gestures as he runs off the field after defeating the Los Angeles Chargers at Allegiant Stadium. Mandatory Credit: Orlando Ramirez-USA TODAY Sports /
After rumors regarding a potential trade of Josh Jacobs, NFL teams have reportedly called the Raiders to discuss their running back. Now, Ian Rapoport has an update for Raider Nation.
It's been an odd week for Las Vegas Raiders running back Josh Jacobs. After appearing in the Hall of Fame game to get some reps against willing tacklers, that head coach Josh McDaniels describes as reps that can't be simulated in practice, Jacobs suddenly was the center of trade rumors.
Despite multiple starters on both the offense and defense seeing time on the field on Thursday, including young stars such as Tre'von Moehrig and Nate Hobbs, Jacobs was the player the media focused on. Suddenly, overnight, the general consensus became Las Vegas only played Jacobs to showcase his skillset for a trade.
This theory was always strange, being Jacobs not only played just a short while in the preseason contest against Jacksonville but five other offensive starters were given snaps as well. Following the game, McDaniels gave his reasoning on why his RB1 was out there, to begin with.
""I always think it's good for backs to carry the ball in the preseason. There's a lot of things that happen when you're getting tackled and hit that you can't simulate in practice. I think all our guys had the ball tonight. I think all our guys either caught it or were handed the ball and had to get tackled. We can't really simulate that or rep that in practice.""
Will Raiders RB Josh Jacobs be on the move this season? The answer is no
With the media spinning narratives about Jacobs' availability via trade, teams reportedly called the Silver and Black to discuss the former Alabama halfback. Among these teams were the Eagles, Lions, and 49ers. Since NFL Network's Ian Rapoport received information from a source about Jacobs' future with the Raiders.
"My understanding is the Raiders are not trying to trade Josh Jacobs, not planning on trading Josh Jacobs, all of those things", Rapoport said. "He is as of right now their best running back and rarely do you see teams look to trade their best player at any position, let alone someone who's due just $2.1 million."
""This is a team that is built to win, it is a team that's gonna be in the playoff mix, they are not looking to and do not plan to trade Josh Jacobs at all.""
There you have it, Raider Nation. Jacobs is here for the 2022 season.