City of Oakland Hail Mary Stadium Deal coming into Focus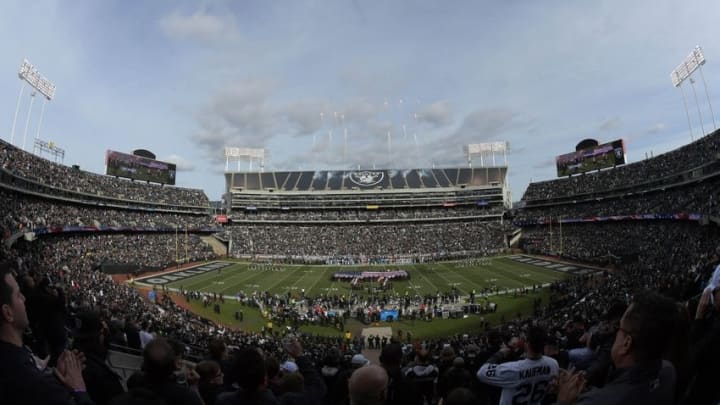 Nov 27, 2016; Oakland, CA, USA; General view of pregame activity before the Oakland Raiders play against the Carolina Panthers at Oakland-Alameda County Coliseum. Mandatory Credit: Kirby Lee-USA TODAY Sports /
Details are beginning to emerge of the stadium deal the City of Oakland hopes to allow them to keep the Raiders
Too little, too late? That is the question.
The Oakland City Council and the Alameda County Board of Supervisors (they just sound like two-bit politicos who can't get out of their own way) have begun to leak details about the last ditch stadium deal they hope will keep the Raiders in town.
The quick break down is $600k from Lott's group, $200k from Oakland, $200k from the NFL and $300k from the Raiders. Total price tag of $1.3B.
90 acres for the stadium and about 8,500 parking spaces. 35 acres for commercial development.
The A's would be expected to build their own stadium at Howard Terminal.
Ronnie Lott gave an interview last month on what his mission was with regard to the Raiders and a new stadium in Oakland. He said Mark Davis told him, if he can deliver the land that he could work with that.
The initial framework of this deal, doesn't sound like Ronnie is able to get the land from the city in an outright purchase. The city will be leasing the 125 acres to Lotts group.
The City and County have been screwing up this situation from the beginning and their involvement is sure to be an issue with Mark Davis. I mean, hell, they can't even leak information about the deal without creating a pissing match amongst each other and the mayor.
There have been articles recently talking about it being a deal breaker if Mark Davis had to sell part of the team to Lotts stadium group. But those are just flat out false. Mark has stated several times, that he was willing to do just that if it meant the Raiders could get a stadium deal done in Oakland.
It will be interesting to hear the full details of the plan and what Mark Davis and the NFL has to say about them. I think we will know the fate of our Raiders in mid-January after the scheduled NFL Owners meetings.
My personal feelings on the matter
I'm a die hard Raiders Fan since 1980, born and raised in Los Angeles and currently reside in Las Vegas. Everywhere I go, I'm always rocking Raiders gear and everyone always asks me how I feel about the stadium situation.
And my answer is always this: It's a win-win. My team is going to get a new state of the art stadium….somewhere. If it's in Oakland, perfect. The history, the nostalgia, the road trips with my son. I'm with it. If it's in Vegas, perfect. My team is in my backyard again, I can go to every home game. Man, I can even get a job with them and be a real Raider. I'm with it.
More from Just Blog Baby