Game Ball: Oakland Raiders vs. Buffalo Bills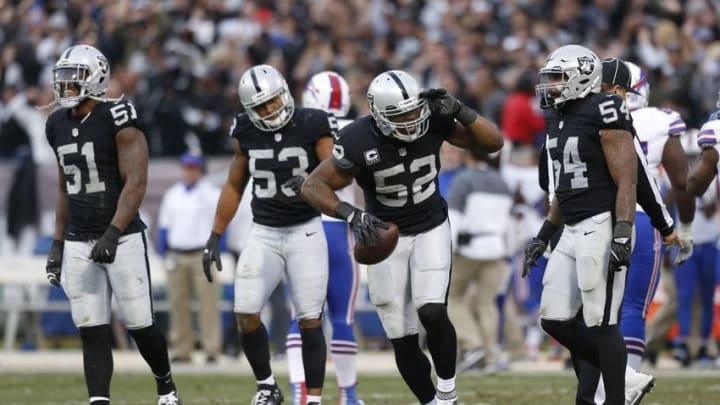 Dec 4, 2016; Oakland, CA, USA; Oakland Raiders defensive end Khalil Mack (52) reacts after recovering a forced fumble against the Buffalo Bills in the fourth quarter at Oakland Coliseum. The Raiders defeated the Bills 38-24. Mandatory Credit: Cary Edmondson-USA TODAY Sports /
Game Ball is a weekly series that awards a "game ball" to the player of the game for the Oakland Raiders. Only one player will be chosen, and this one is for Week 13 against the Bills.
Awarding a game ball to a player, coach, or anyone deserving is a long-standing tradition in the NFL. And that is what serves as the inspiration for this weekly series.
Some games, many players may be deserving to be recognized as the player of the game — while some games, maybe only a couple of players are deserving. No matter what, there is always at least one person who stands out above the rest.
In Week 13, that player was Khalil Mack.
As he has done so many times before, Mack imposed his will on those who lined up across from him. Mack was disruptive, he was a force against the run, and he once again came up huge late in the game.
In terms of the protection used to try to contain Khalil, this might have been the most extreme attempt of the season. Mack faced multiple triple teams — that's right, legitimate triple teams — and he still was putting pressure on Tyrod Tayor. And if it wasn't a triple team, Mack was at least met by a chip block and either a tight end or a running back.
And when the Bills decided to let Mack have a one-on-one matchup? All he did was get his hands on a pass attempt which led to an interception, or he recorded a strip-sack, which he recovered himself of course.
Mack has now recorded a sack in seven consecutive games, and he has 9 total sacks over that span. He has 10 on the season. He has also forced a fumble in four of his last five games, and this was the second game in a row where he sealed the game with a strip-sack.
Mack totaled 7 tackles (4 solo), 1 tackle for a loss, 1 pass deflection (that resulted in an interception) and 1 additional QB hit.
Khalil is on an absolute rampage right now, and somehow, he looks like he is getting better each and every week. His case for defensive player of the year is also growing stronger by the week. His competition is steep, but for my money, he's the best player on that side of the ball in football.
More from Just Blog Baby