Kelechi Osemele is scary good for the Raiders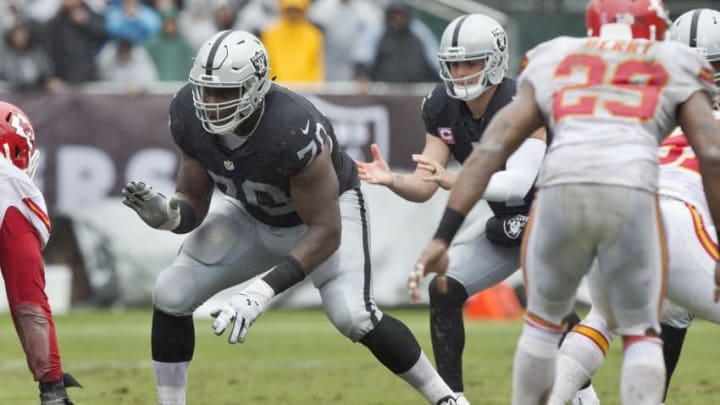 OAKLAND, CA - OCTOBER 16: Offensive lineman Kelechi Osemele #70 of the Oakland Raiders blocks against the Kansas City Chiefs in the second quarter on October 16, 2016 at Oakland-Alameda County Coliseum in Oakland, California. The Chiefs won 26-10. (Photo by Brian Bahr/Getty Images) /
After making his first Pro Bowl in 2016, it seems that Kelechi Osemele is just entering his prime, which is sweet news for Raiders fans.
The Oakland Raiders knew Kelechi Osemele was good when they signed him. Outside of missing nine games during the 2013 due to back surgery, Osemele has been mostly a durable player during his five-year NFL career. Entering his sixth season, the big offensive lineman has become an anchor for the Raiders, and he may just be getting started.
A second-round pick of the Baltimore Ravens back in 2012, Osemele was a starter at right tackle in every game his rookie season. All he did that first season was play a key role on a Ravens team that would go on to beat the San Francisco 49ers in Super Bowl XLVII. The back injury derailed him in 2013, but since then, he has missed only five games, and has become one of the elite guards in the NFL.
Oakland signed Osemele prior to the 2016 season, and gave him a boatload of money to be their starting right guard.
With Donald Penn locked in at left tackle, the Raiders made it a priority to protect Derek Carr's blind side, and boy did those two do just that. Osemele did not allow a sack, and prior to the play that ended Carr's season, Penn did not allow a sack either.
More from Just Blog Baby
Total domination.
For his efforts, Osemele was named to his first Pro Bowl, joining center Rodney Hudson as first-timers, while Penn made his second.
Fellow guard Gabe Jackson made the team as a reserve, and the Raiders as a team had the most players named to the Pro Bowl in the NFL.
Hudson was considered a Pro Bowl-caliber player during his time in Kansas City, but Osemele kind of crept up on people in 2016.
According to ProFootballFocus.com, since Week 5 of the 2015 NFL season, Osemele has not allowed his quarterback to even be touched, let along sacked.
Related Story: Oakland Raiders: 15 best first-round picks all-time
At 28-years old, Osemele is entering his prime, and with four more years left on his deal, he will be a mainstay on the offensive line during what should be a nice window for a Super Bowl title.
This offseason, the Raiders added running back Marshawn Lynch to the fold, giving them a star running back to join an already explosive offense. Oakland finished sixth in the NFL in rushing last season without Beast Mode, so the sky is the limit in 2017.
Not having Penn in camp is certainly troubling, as the Raiders do not have a player who can fill his shoes on the roster. They are going to try to make it work with Marshall Newhouse and Vadal Alexander until he comes back, which might not be until late in the Summer.
The offensive line is still solid without him, led by Osemele, but it cannot be considered elite until Penn is back protecting Carr's blind side with Osemele on the left side.
Next: Oakland Raiders: 5 potential first-time Pro Bowlers
Osemele was a great signing for the Raiders last offseason, and the addition will prove even bigger if Penn is not available this season. Carr is healthy heading into Sunday's preseason opener against the Arizona Cardinals, and is coming off a near-MVP season. Osemele played a big role in every good thing the Raiders did on offense last season, and while 2016 was his first Pro Bowl season, it certainly will not be his last.