ESPN feels one Raiders contract is bloated compared to the league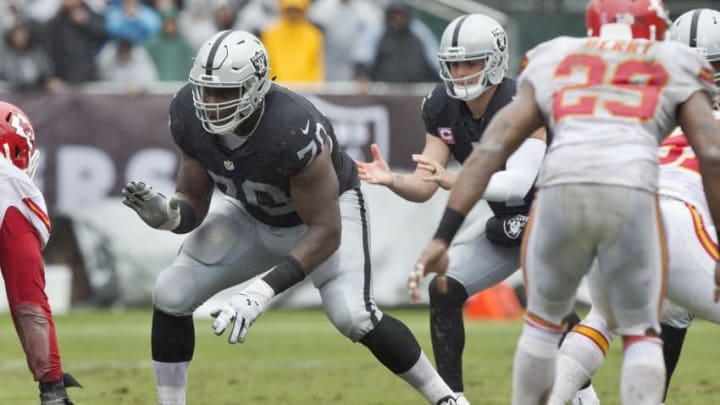 OAKLAND, CA - OCTOBER 16: Offensive lineman Kelechi Osemele #70 of the Oakland Raiders blocks against the Kansas City Chiefs in the second quarter on October 16, 2016 at Oakland-Alameda County Coliseum in Oakland, California. The Chiefs won 26-10. (Photo by Brian Bahr/Getty Images) /
The NFL is loaded with contracts that are just out of realm of normal, and ESPN feels the Raiders have one of the top-20 bloated contracts in the league.
In the last couple of seasons, we have seen some NFL teams give a bunch of money to players, with some not really doing enough to warrant the amount of money they were paid. Take Jimmy Garoppolo for instance. While he is certainly a solid quarterback, he is nowhere near the best in the league, but is currently the highest-paid player in all of football.
More from Just Blog Baby
ESPN's Bill Barnwell put together a list of some of the more bloated contracts in the league, but they are bloated based on the comparison to others who play their position. He listed them from 20-1, and while only one Raider made the list, it is a guy who has proven to be well-worth the money.
Coming in at No. 18 is Kelechi Osemele, as ESPN feels his contract is extremely bloated compared to the rest of the players in the league that play his position. Osemele does get paid a lot of money, but he has been well worth it since coming to the Raiders, making two straight Pro Bowls.
The article is actually pretty interesting, as Bill Barnwell takes the three-year value of the biggest contracts at each position and compares it to the rest of the group. Osemele's three-year contract value is nearly $37 million, which is actually 31 percent higher than the rest of the guards currently playing in the NFL.
Next: 2018 Raiders opponent offseason review: Broncos
Sometimes you have to pay for value, and that is exactly what the Raiders got when they grabbed Osemele away from the Baltimore Ravens. He has played his best football since putting on the Silver and Black, and is currently an anchor on of the best, and most well-paid offensive lines in all of football.