Pressures, Hurries, Knockdowns: Oakland Raiders at Kansas City Chiefs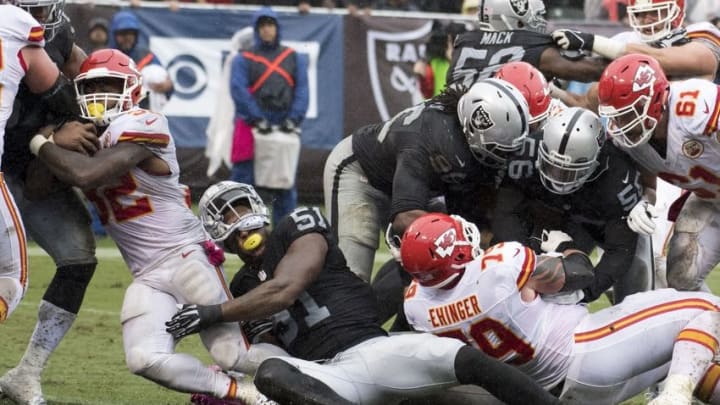 October 16, 2016; Oakland, CA, USA; Kansas City Chiefs running back Spencer Ware (32) scores a touchdown against Oakland Raiders outside linebacker Bruce Irvin (51) during the first quarter at Oakland Coliseum. Mandatory Credit: Kyle Terada-USA TODAY Sports /
October 16, 2016; Oakland, CA, USA; Kansas City Chiefs wide receiver Tyreek Hill (10) runs past Oakland Raiders middle linebacker Cory James (57) during the third quarter at Oakland Coliseum. The Chiefs defeated the Raiders 26-10. Mandatory Credit: Kyle Terada-USA TODAY Sports /
Knockdowns
The Chiefs are Boring:
I've been saying it for weeks, years even. Boring team to watch, no matter how much they win. And how do they win all the time when their offense is terrible?
Well, they aren't so boring anymore.
Against the Falcons the Chiefs had a pick-six, pick-two, and a punt return touchdown. Their offense still didn't do a ton, but they played a complete, three-phase game that was aggressive and attacking.
The Chiefs have a philosophy of allowing their defense and special teams to be aggressive and attacking, to set the tone for the game and hopefully create opportunities. That way, their offense doesn't have to be exciting. They just need to be effective.
Think the 2000 Baltimore Ravens with a better offense and a worse defense. That's the Chiefs, essentially. Do just enough to win, and nothing to actually lose the game.
But that's all changed in recent weeks.
Tyreek Hill scored three TDs against the Broncos. One rushing, one receiving, and one return TD. He was the first player since Gale Sayers in 1965 to score in one game in those three ways.
More from Las Vegas Raiders News
The Chiefs also – on two occasions – drove the ball with ease through the air against the fearsome Denver air raid defense for game-tying and game-winning scores. Alex Smith looked like Tom Brady. The Chiefs layed 30 on the Broncos.
Then last week against Atlanta, their defense and special teams step up and make big plays. They scored another 29. That's 59 points in two weeks for a team that struggled to get to 20.
With the emergence of Hill, a healthy defense, and the Walrus taking the reins off a little recently, the Chiefs can score in multiple ways and have become quite dangerous. And certainly not boring.
The Raiders are one of the most exciting teams in football because they can score quickly and often.  The Chiefs are becoming that way as well.
These are both teams who are solid in all three phases. The Raiders offense is more explosive. The Chiefs defense is more consistent. Both special teams units are excellent.
Thursday's game should be an absolutely epic battle between two of the best teams in the NFL as they beat the hell out of each other in the cold Kansas City air for division supremacy.
More from Just Blog Baby