Oakland Raiders: Marshawn Lynch, a one-year rental?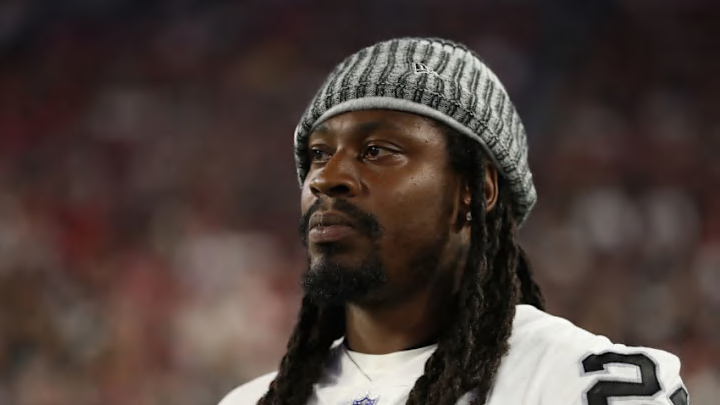 GLENDALE, AZ - AUGUST 12: Running back Marshawn Lynch /
After spending the 2016 season "retired", Marshawn Lynch decided to un-retire to join his hometown Oakland Raiders. One question remains, how long is he here?
Back in the spring, there had been talk that Marshawn Lynch was thinking about coming out of his year-long retirement to join his hometown. Turns out, those rumors were true.
In late April, the Oakland Raiders made the move official. The only compensation in the trade with the Seahawks was a swap of two late-round picks. Oakland got a sixth rounder, while Seattle got a fifth rounder. If Lynch does end up being a rental, they gave up practically nothing to get a potential 1,000 yard runner. Let's take a look at some reasons that he could only be in Oakland for one year.
Marshawn's Unpredictability
Unless you just haven't watched football for the past five years, you know just how unpredictable Lynch is when it comes to doing things. He will do things his way, at all costs. Even if it means getting fined for it. Some will say he's rude, many will say that he is right for not letting the NFL control what he does. After all, he has been sitting for the national anthem for 11 years, nobody had said a word until a few weeks ago.
Back in March, a month before he ultimately signed with Oakland, there were multiple reports about Lynch being interested in a return to the NFL, but he did not know what he wanted to do yet. His agent Doug Hendrickson confirmed that rumor.
More from Just Blog Baby
Hendrickson stated that "He's one of the most unique guys I've ever been with in my life. Marshawn, it wouldn't shock me in three days if he says, 'Hey, I want to play". Well, it wasn't three days. More like 27 days.
Dating back to his time in Seattle, we all know that Lynch does what he wants and nobody will change that. All we can do is hope that Lynch decides to play out his two-year contract, trying his best to get his hometown team the Super Bowl ring it deserves. If he does decide to leave, Oakland needs to start looking for a replacement immediately.
The Importance of Family
Family is important to every NFL player. They are constantly on the road, that means missing valuable family time. Time that can often be spent with growing children, newborn babies, etc… No player can say that they care about family more than Lynch does. When Lynch played with Seattle, he would reportedly fly back to Oakland on the weekend's after five days of practicing, just to spend time with his family.
One can not deny that he cares about his family. Family means more than immediate relatives, to Marshawn Lynch "family" is all about the community surrounding him. Anybody from Oakland will tell you that he consistently gives back to the city, especially the young kids.
Next: 5 reasons Oakland Raiders will win AFC West in 2017
Whether Marshawn lynch is going to be a one-year rental or not, one thing is for certain. We must appreciate the greatness that we, as fans, are able to witness this upcoming season. This could be a very special season for the Silver and Black, given that the team only has a few years left in Oakland before they leave for Las Vegas. Do you believe that Lynch will be a one-year rental? Or will he play out his contract?